May 2019 is the Year for Modern Marketing
On 5th February 2019, clients in Singapore, South Korea, Taiwan, Malaysia and Indonesia welcome the Lunar New Year! This will mark the first day of the Year of the Earth Pig, the twelfth animal in the Chinese zodiac and also the symbol of wealth and good fortune.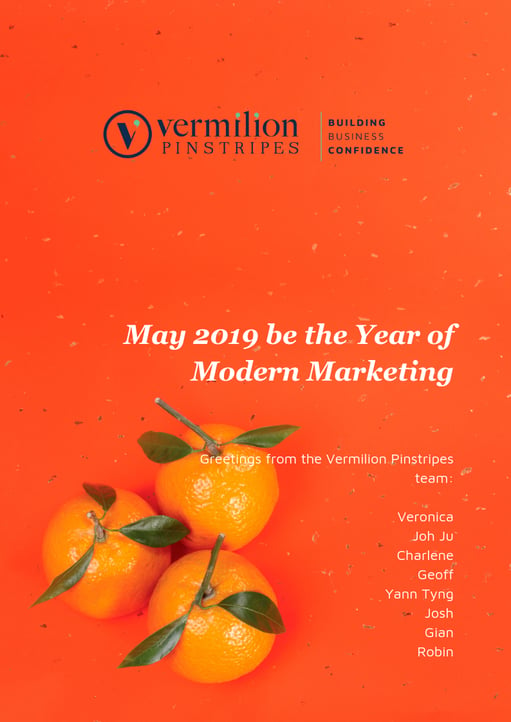 Believed to be one who is sensible, thoughtful and realistic, people born in the Year of the Earth Pig are popular and are often invited to social gatherings. This will be a great year for them to succeed and thrive, especially into today's digital age where new technological developments are fuelling personal and business connections.
But wait, isn't that just about something that every business can do?
Yes! Businesses can thrive if they work on opportunities to build good relationships with customers, enhance loyalty and maintain effective communications with key stakeholders.
In other words, businesses need to focus on personal engagements. In this digital era, modern businesses that leverage data and artificial intelligence (AI) to a gain deeper understanding of their clients and then nurture these clients with the human touch will gain a strong competitive edge.
To us, that's Modern Marketing where we leverage technology to improve customer engagements. You see, technology may aid in shaping customer engagements but it can never replace any human in delivering the best brand experience.
So, let us all work together -- think long term and be consistent in delivering a good customer engagement and brand experience.
The Year of the Pig looks to be a great year for modern businesses and modern marketers. At Vermilion Pinstripes, we're looking forward to helping more small businesses and B2B companies thrive with brand confidence. May 2019 be the Year of the Modern Marketing!
Gong Xi Fa Cai! 恭喜发财**!

Veronica and JohJu
Vermilion Pinstripes


**Wishing you wealth and prosperity!
p.s. We have a Lunar Gift for you which will help you embark on Modern Marketing journey in 2019. It's a 56-page eBook on Modern Marketing for the Modern Business".
Vermilion Pinstripes is a full service integrated sales marketing and communications agency based in Australia and Singapore. We have a team who use maths, science, creativity and psychology in this modern marketing era to help clients sell more without selling and build their business confidence!

e/ info@vermilionpinstripes.com

New South Wales, Australia: t/ +614 0777 9828
Melbourne, Victoria: t/ +6144 950 1277
Singapore: t/ +65 9681 7045