It is not difficult to understand why cookie-cutter messaging happens. Today's environment offers many communications platforms for engagement with a variety of audiences within a very small window of time for responses. To further complicate matters, the line between PR and marketing is thin in areas where marketers and communications professionals overlap – branding, content, social and analytics are just some examples of these areas.

Over the years in my career, it became apparent that when PR and marketing professionals work together with their sales colleagues brand intimacy happens, and sales accelerate. At Vermilion Pinstripes, we use a modern marketing framework developed by my colleague, Veronica Lind where it guides teams from identifying, targeting, engaging and selling to their most profitable customers.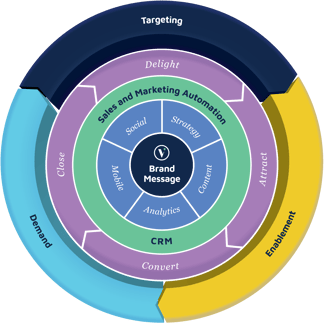 Brand is #1
The brand is important for any business. In the eyes of the customer, the brand is the entity that distinguishes the organisation or product from its rivals on the market. As a Forbes contributor Anjali Chugh writes,
"By not paying attention to creating a brand and creating an awareness around that brand, you're unknowingly depriving your business of the highest potential it can reach."

Some businesses such as start-ups find it difficult to articulate their brand. Why? From experience, I find that many are more comfortable talking about their products and services when faced with a customer. That's good, isn't it? Not really, because what every customer hears about is just a different product or service, and so they think that that business has nothing more than that particular product or service.

To break out of that box, focus on speaking to the most profitable customers. Yes, that's one set of customers – consider their goals and aspirations, understand their needs, wants and desires, and look for the ways to establish an emotional connection.

Strategic, Structured and Social

1. Strategic
Mobilise your sales, business and marketing colleagues for a brainstorming session to uncover the goals and aspirations of this set of customers and what your brand means to them. Some brainstorming questions include:
What does your brand mean to these customers?
What do you do better than other competing brands?
What are the values that your brand and these customers share?

What are the three words that your customers would use to describe your brand?

What would be the three words you prefer the customers to use when describing your brand?
2. Structured
Create the brand's unique voice to be used across a vast spectrum of channels e.g. website, social media, email, ebooks and so on can be a complex task. The brand's voice must be consistent and appropriate for your brand's personality in order to communicate effectively. Follow these simple steps to help you shape your brand's voice:
Values: Always start with the values. Be clear about what your brand stands for. Is it quality, innovation or perhaps timelessness?
Vocabulary: Analyse the 'speak' used by your most profitable customers. What is the style, degree of formality or informality, and choices of words and descriptions they tend to use? These will give you information or ideas on how your brand could speak to them.
Emotion: Can you add a touch of humour? Laughter adds a human quality to your brand's voice and gives warmth to your brand message. But always remember, laugh at yourself, not at others. Try adding personality to your brand.
Repetition: Say it to everyone who works in your business as everyone needs to know about the voice you have adopted for your brand. Make it consistent across departments by creating a tone of voice guide.
3. Social
Social media is undeniably one channel that will bring massive returns when applied correctly. Social media can be extended to the entire lifecycle of the customer, helping brands to move customers from each stage of the life cycle, from brand awareness to demand generation and onward to sales enablement, customer support and even customer advocacy. Some tips for your brand message include:
Brand Values – social is where you can extensively share your brand values. Your brand's voice will draw people into wanting to identify with you.
Brand Circle - choose influencers who share your values and are aligned with your voice to make them your allies.
Tell a (visual) story – your content strategy should be guided by your brand voice and messages. Let that drive you on using the right words, images and videos to connect with your audience.
Increase Personalisation – understand your customers' habits through data analysis and tailor your messages to what they need, want or desire at that point.
The future of marketing is ..... being human.
In a future where chatbots and artificial intelligence (AI) are fast becoming integral components of marketing, it is the human touch that will create deep emotional connections with customers.

As modern day communicators who are well versed with leveraging technology to achieve marketing objectives, we need to stay focused on developing messages that speak to our customers' needs, challenges and aspirations. No matter the platform or technology, humanising communications is essential to creating meaningful emotional connections. To achieve long term business growth, brands need to evolve and constantly seek ways to do that.
This article was published as the cover story in The Singapore Marketer (Jul-Sep 2018) issue. The Singapore Marketer is a knowledge-based Official Publication of the Marketing Institute of Singapore.
About the writers:
Koh Joh Ju is a communications professional with over 20 years of experience specialising in B2B communications. Previously with IBM, Hill & Knowlton and Weber Shandwick, Joh Ju is co-founder of Vermilion Pinstripes, a modern marketing agency based in Australia and Singapore that helps small businesses and B2B organisations connect with MORE of their most profitable customers to grow their business and achieve ROI.
Veronica Lind is the Business and Marketing Strategist at Vermilion Pinstripes. As a Modern Marketing Strategist, her dexterity with technology and her vast experience in sales, business development and marketing have attracted the attention of clients in regional and global markets. To sell without selling is a key virtue she promotes and which has profited businesses that needed a boost of confidence.

e/ info@vermilionpinstripes.com

New South Wales, Australia: t/ +614 0777 9828
Melbourne, Victoria: t/ +6144 950 1277
Singapore: t/ +65 9681 7045