When businesses feel stuck
A common story people tell us at
Vermilion Pinstripes
is how their businesses feel stuck and they do not know what is not working.
What we are hearing is - they want a change, and they do not know how to do it. And that is what gets us excited. We love looking at something and taking it apart from different angles and find a way to make small changes to make a business thrive again.
On IWD 2021, we want to celebrate with the women who are journeying with us and all the women embracing an equal future.
Changes are a part of life and they are something we can embrace.
There is something each of us can do in our own way that can create a ripple of change in the fabric of the world. And with
International Women's Day
approaching on March 8th, it is an important reminder how much we have achieved in changing the lives of women and how much more we still need to do to bring balance and equality to women.

The COVID-19 pandemic has sent the world spinning and as everyone is trying their best to keep going forward and recover, we are seeing women and young girls step up to participate and be involved in decision-making. Many women are standing at the front lines of this COVID-19 crisis as healthcare workers, caregivers, community organisers, leaders. Their efforts and contributions have not gone unnoticed.

What is significant during this COVID-19 pandemic is how the majority of the countries that have had more success in dealing with the COVID-19 pandemic are led by women. We are talking about the Heads of Government in New Zealand, Denmark, Ethiopia, Finland, Germany, Iceland and Slovakia. It was just not about containing the spread of the virus. These women leaders stood out in the way they responded to the crisis. They responded efficiently and were decisive, and they had also the touch of empathy that is so needed during tough times. They were able to take in the whole picture and respond not just to the immediate health risks but also consider the broader socio-economic impacts. Leading a country in normal times is a challenge in itself. During a pandemic requires even more grit, steel and a very cool head on steady shoulders. The X-factor that made these women leaders stand out was their compassionate communication of information to the public that was fact-based, clear and transparent.

The uncomfortable reality today is, many Heads of State and Government around the world are still not led by women because of social and systemic barriers to women participating in leadership roles.

COVID-19 has plunged the dire situation of many women around the world deeper into an abyss. Lockdowns and restrictions mean that women are even more trapped in families that experience domestic violence. Many have unpaid care duties handed to them while others have to cope with unemployment while still finding a way to feed their families.

We need to change the perspectives of what women and girls can achieve and this starts at the very root, in our daily lives as we all work towards equal opportunities and empowering women and young girls in our communities.
Wonder Women who Choose to Challenge
We are so proud of our team of amazing women at Vermilion Pinstripes who come from all cultures, backgrounds and each bringing their own unique experiences and skills to the team. We are all working towards the same objective - to help businesses sell without selling, and build happy and confident businesses across the world.

Come meet our women marketing enthusiasts - Veronica Lind, Koh Joh Ju, Charlene Tan, Mehreen Hasan, Sabina Sundaramoorthy, Selena Hata and Kooi Yann Tyng!

We are proud as women to be involved in this Modern Marketing world in the Experience Economy of today. A more gender-balanced world is being built every single day by women and young girls from all over the world. Women can enjoy a sense of purpose, fulfilment and balance in their personal and professional lives to live a full and happy life.

And that is what the women on Vermilion Pinstripes are doing - striving for the opportunity to share their skills with businesses while also dedicating to their personal growth.
Veronica Lind - the Steady Anchor
As the Business and Marketing Strategist of Vermilion Pinstripes, Veronica Lind is our solid anchor who steers the steady ship of Modern Marketing.

Her background as an entrepreneur, technologist and international marketer gives her a 360 degree vision in Modern Marketing. She fully understands the challenges and difficulties of what businesses go through as they start up, find the stamina to keep going and find ways to get past obstacles. For mature businesses, the focus is different, and Veronica guides them to seed new businesses and grow exponentially. She has owned several small businesses and growing them, so she is one to walk the talk and able to offer solutions that get to the root of the issue and which are realistic and effective. Listening to and helping businesses to understand themselves and improve their branding is her skill. Most importantly, whether a business is a young seedling or a mature one with many years under its belt, she knows how to listen and engage with business owners to get them to be enthusiastic about their business potential. Her gift is inspiring business owners to get excited about taking on new skills or pushing what they currently have to new heights.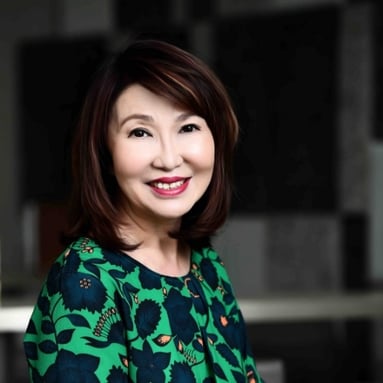 She is highly comfortable in the areas of technology, business development, sales and marketing. Veronica thrives on challenges - that is her adrenalin to keep pushing forward. She built a significant part of her career in IBM at Asia Pacific and Global levels. Veronica was also the first woman in Asia to be certified for structured cabling design, leading the successful design and installation of many large scale network cabling projects and building data centres across industries.
Challenge to Change: Veronica started selling at the age of seven, which explains why marketing for her is very much a familiar territory. Her family faced financial challenges but that did not become Veronica's setback. If anything, it propelled her to learn how to sell. She became the richest poor kid because she realised there was no harm in asking people to buy. Regardless of the answer, she had a 50-50 chance of closing the deal, which is a pretty good figure! An even bigger challenge was not to grow up being consumed by money or fear a lack of it. If anything, her past experiences led her to empathise with others and be aware of what others need. She is giving back now by mentoring, which enriches both her and the others. Veronica credits her husband for bringing her down to earth when she gets too carried away with ideas, but she knows when she chooses to embark on a new project, she will give it her all. And a nugget of wisdom from Veronica - ¨if someone tells you it can't be done, don't believe them!¨
For Veronica, running a business is not about hearing the cash registers ring and having one's head full of numbers. In our modern marketing age, businesses need an open mindset and be ready to embrace new technology with curiosity and confidence. Resistance to technology is futile in the modern marketing age. And even more important than that, Veronica always advocates putting in the Human Touch in business strategies. Going the extra mile for clients and adding the personal touch can be the vital difference in making a business stand out and stick in the minds of customers. A powerful human engagement can give any business a strong competitive edge.
With so many opportunities available out there, Veronica is always hungry for more and she has many accolades she is rightly proud of. Vermilion Pinstripes'
Modern Marketing Framework™ (MMF™)
became the first of its kind to be trademarked by the Australian government's intellectual property agency, IP Australia last year. Its unique blend of science, creativity and psychology combined with the latest technology helps to build confident, thriving businesses amidst rapid marketing technology changes. There is never a dull moment in Veronica´s power packed schedule - when she is not engaged in creative brainstorming moments with clients and her team, she can be found at numerous
Modern Marketing events
to help businesses Sell without Selling. Knowledge and experience are only useful when shared, and these events are where one can see her passion for what she does. Experience for yourself what exciting marketing feels like when you listen to Veronica share her ideas at her next event on using
Wix to build a business website
!
Early this year in 2021, Veronica launched
Brilliant-Online
, a multi-dimensional magazine for progressive individuals and dynamic businesses in the digital era. And we still have a good part of 2021 to go - who knows what she will create next!

Veronica takes her personal life as seriously as she does her professional. She is an avid cook and loves pottering about in the kitchen whipping up gastronomical delights for her loved ones at home. She is carrying on what she has learnt from her mother and also adding her own personal touch to her cooking. And a fun fact for you: Veronica actually owned her very own specialty café and restaurant! A prime example of how it is possible to combine passion and business and thrive!
Koh Joh Ju - the Smart Strategist
As our Communications Strategist at Vermilion Pinstripes, Koh Joh Ju specialises in seeing the strategic big picture, pinpointing what they need to focus on, and deftly guiding clients to achieve their business goals.

Joh Ju has more than 20 years of experience in sales and communications, so she has her magic bag of neverending ideas for businesses to accelerate their business and thrive with confidence.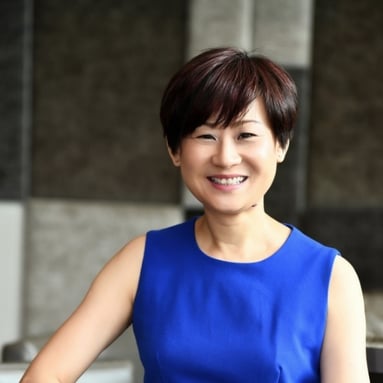 Joh Ju has previously worked with technology and corporate clients such as Agilent, Oracle and Temasek Holdings. She was also Regional Communications Manager for IBM covering the Southeast Asia and India region for seven years.
Challenge to Change: The working world can be a jungle if one does not know how to survive and it was where Joh Ju learnt she had to stand up for herself and stand her own ground. Oppression and aggression may be ways to control people but it is far from being the most effective. To initiate a change of behaviour in people, one has to find a way to engage with another so that both can be heard. Respect is a magic ingredient that can work wonders. For Joh Ju, the right way to engage and empower is to be respectful and inclusive. In both her professional sphere at Vermilion Pinstripes and her personal arena with the animal welfare volunteer group, she hopes she is doing it right.
Joh Ju received the title of Certified Sustainability Reporting Specialist conferred by The Institute of Certified Sustainability Practitioners. In the arena of Modern Marketing, one can never really sit back and use old tools. Keeping well ahead with the latest trends and demands is a vital part of our strategy to make sure we stay fresh, alert and equipped with the necessary knowledge and skill sets to help businesses push ahead.

Joh Ju dedicates her personal time with equal passion to cat rescues (every paw and every meow is unique and special to her!) and she is also committed to serving the vulnerable members of society to enable them to live a full and dignified life.
Charlene Tan - the Marketing Magician
Our Modern Marketing Director, Charlene Tan, firmly believes in the power of human motivation. She knows how to engage with businesses to help fine tune their messaging and identity, identify gaps in their markets.

Her background is in global corporations and she has been in the field for the past 18 years working with brands such as Ogilvy, Cisco Systems, IBM and Oracle.

Charlene has amassed a rich store of experience with different clients across industries - she is convinced that modern marketing techniques are absolutely accessible to every company.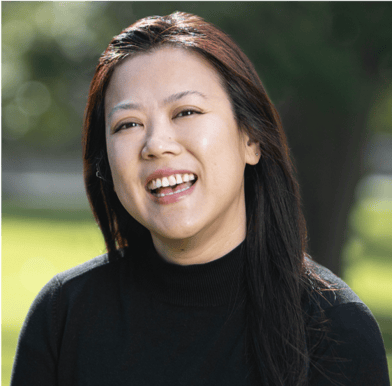 She has been swimming in marketing waters since her university days, starting with a Bachelor degree in Marketing and the Media (Murdoch University, Perth, Western Australia) as well as a Certificate in Public Relations (Institute of Public Relations, Singapore).
Challenge to Change: Charlene used to do wakeboarding - it's not the "typical sports women do" but she is one feisty spirit and there was no way she could live in Perth and Melbourne and pass up the chance to challenge the waves there. This is one woman who is not afraid to ride the waves, get wet and be fearless at sea! That same attitude is applied to what she does at work. There are no rules to say the capricious waves are only for "surfer dudes". So, who's afraid of a little water?
Charlene has since hung up her adventurous board and is moving on to a different way to enjoy life - running with her also equally feisty pet Maltese who may be blind but is always ready to soak up life and all its smells, textures and tastes! Who says it's a dog's life? We would be quite happy to be Charlene's canine running companion!

Mehreen Hasan - the Digital Master
What do you get when you combine the best of marketing and technology? Mehreen Hasan! She is our Marketing Technologist who switched from Communications after 10 years to being Vermilion Pinstripes' Marketing Technologist. Her strong technology background stood her in good stead and gave her an edge over others with only marketing knowledge.
She was mentored by Veronica Lind and over the years her expertise has grown to benefit many small businesses in Asia and Australia. She is responsible for creating active playgrounds of engagements in today's Experience Economy.
Mehreen began her career at international public relations giant Weber Shandwick executing creative multi-market campaigns and communications initiatives for a number of global and regional clients including Microsoft, Nortel, Business Objects, SK-II, Carlson Wagonlit Travel and Temasek Holdings. Mehreen also used to be the Marketing Manager for global training, consulting and conference service provider, Pink Elephant, a company with a pioneering and innovative spirit that has been introducing and spearheading revolutionary concepts and programs for 40 years.
She later joined Pinstripes Communications (now known as Vermilion Pinstripes) to lead media outreach, editorial and research projects for clients such as Agilent, Honeywell Process Solutions, LexisNexis and Oracle.
What Mehreen does as a Marketing Technologist is to support clients on web development, sales and marketing automation including social media, eMail marketing, Google My Business and technology integrations. Her experience in content development and media relations has contributed to the smooth execution of our Modern Marketing campaigns.
Her calm collectedness and skills have been vital during challenging periods for clients. When the COVID-19 pandemic caused local businesses in Japan to close their physical operations, Mehreen was quick to execute clean, effective, simple solutions for My Body My Pilates based in Tokyo. She worked behind the scenes with them to empower their business to stay connected and engaged with their clients through digital platforms. Within days, the client was able to offer online Pilates classes for their clients and even added extra classes for new client segments! And all done with Mehreen´s trademark sunny smile and warm way of engaging. As a result of her skills and effort, Mehreen was able to ensure that the client remained a happy business with happy customers and regular revenue! All in the midst of a raging pandemic.
We value Mehreen for being a smart, articulate and creative thinker. She is adept at managing multi-cultural projects right from the planning stage to execution, bringing in her expertise in message development, collateral development and logistics, global co-ordination, reporting and day-to-day management.
Challenge to Change: Mehreen now heads Vermilion Pinstripes' North American office in Canada, Mississauga, bringing the team's unique Modern Marketing expertise to clients on the other side of the globe, helping even more happy businesses thrive with confidence.
Communication via languages is her interest and forte, be it learning new human languages or that spoken by computers. And Mehreen is clearly helping businesses speak their language to their customers!
Sabina Sundaramoorthy - the Visual Wizard
She brings to the team her passion for creating meaningful design and visuals that speak to people.
Sabina graduated from the University of New South Wales with a Master of Design and is skilled in graphic design for print and screen applications, branding and identity, as well as typography. She has been creating engaging content for multiple platforms including interactive digital magazines, social media and web platforms.
Challenge to Change: Sabina was given the responsibility to boost Brilliant-Onlines' branding and identity, content design as well as digital interactivity to enhance the readers' experience engaging with the magazine. Her magic wizardry is bringing the magazine to life, making it a multi-dimensional experience for readers.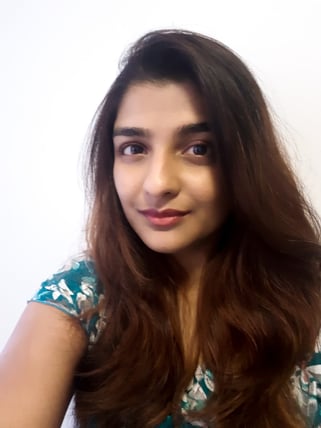 The entire process from exploring the brief all the way to finding the perfect design solution for each advertiser in
Brilliant
is something Sabina enjoys. To see a project grow from a static draft to going live in cyberspace is a rewarding experience for her.
Doing work that is meaningful is a key value for Sabina. It is her way of bringing about changes to real world challenges. International Women's Day is a day that stands out for her as she is passionate about women's empowerment and gender equality. She aspires to use her creative skills to make a positive difference in the lives of women and girls. This starts with creating awareness, inclusivity and empowering them.
Sabina is not new to being a part of the movement to empower women. Her first internship involved using her creative content to give a voice to an ethical online platform for pet adoption in Australia. From this, she moved on to interning with Secret Sisterhood, a social enterprise committed to uplifting, empowering and inspiring women everywhere.
For someone who has dared to pet a cheetah in Botswana and a lion in Mauritius, you can bet Sabina is not one young woman to shy away from adventures, the unknown and challenges!
Selena Hata - Mentee on a Mission
Anyone meeting Selena Hata for the first time is most struck by her bright enthusiasm and sunny smile, and that energy is what she brings to Modern Marketing at Vermilion Pinstripes. This is what Modern Marketing feels like - it is exciting, creative, bright, fun and always bubbling with ideas.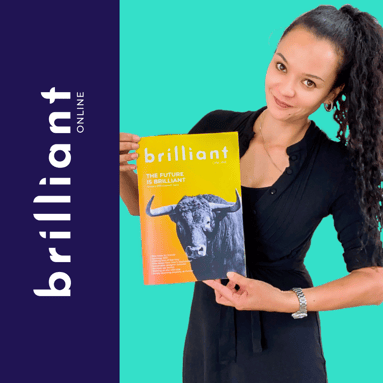 Selena is a Marketing Assistant currently receiving mentorship from Veronica Lind. Learning the ropes of Modern Marketing is a fresh and exciting journey for Selena and every day at the office there is something new to embark on. We all benefit by lifting others up, and Selena is making the most of her new journey in Modern Marketing under Veronica's wing. When experience and knowledge gets passed on, communities can grow and that is how the Vermilion Pinstripes team has been growing and thriving through the years - it is this receiving and paying it back and forward that allows each member to grow.
Challenge to Change:

Moving to a new place and starting a new job in a new industry is a lot on one's plate. Selena is facing her own personal series of challenges sunny side up. Better to press on with an open and receptive attitude and that is bringing her a sense of fulfillment and satisfaction each time she faces a new challenge and conquers it. As they say, when the student is ready, the teacher appears. Selena is celebrating all her milestones at Vermilion Pinstripes and is finding Modern Marketing a really exciting place to be in and grow!
Kooi Yann Tyng - the Story Weaver
As Content Writer at Vermilion Pinstripes, Kooi Yann Tyng is right at home surrounded by words, playing with them, and using them to enhance connections in human communication.
Since graduating from the National University of Singapore with an Honours Degree in English Literature, she has been teaching, writing and translating all the way from Singapore to Spain where she is now based.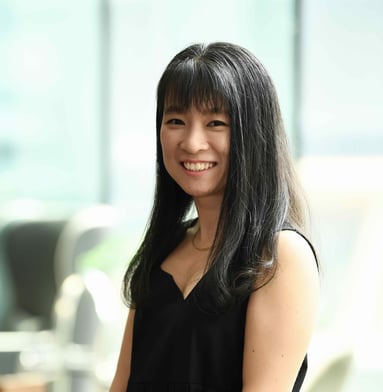 At Vermilion Pinstripes, language is the tool she uses to give brands their unique character and flavour and engage more deeply with clients on an emotional level.
Challenge to Change: Establishing a new life for herself in Spain learning the language, finding a job and a place to live and putting herself out there to make new human connections as herself, without the safety net of familiarity. And realising in the end, we are all beautifully human in the same way - we are all wired for connection.
For Yann Tyng, learning languages is a rich and exciting way to spend her time. It is like getting to know a new friend, and she is currently challenging herself to pick up the Hungarian language. Languages are how people connect with one another and this goes beyond the written and spoken. Dancing is another language to express and explore oneself and ballet classes are her daily meditation where she goes to feel grounded. A day that is not spent dancing (even if it is in the kitchen) is a day wasted for her!
Lifting others around us
We are proud of our enthusiastic, talented and diverse team of women at Vermilion Pinstripes. On International Women's Day, we celebrate the strengths and achievements of women from the past whose efforts and commitment to change have allowed the modern-day woman to have their opportunities at living a rich and full life where they are free to explore and build their talents, passions and skills. We are motivated by what we have to offer and we are committed to empowering one another to make a change today and in the future.
When we believe in what we can do and what we have to bring to the table, we also lift others around us. At Vermilion Pinstripes, we salute all the women and young girls, past, present and future who are eager and ready to make a change for themselves and for their communities. Here's to building happy businesses that thrive and make a change for equality. An equal future is ours for the taking, when we each take one step to #ChooseToChallenge and make a change.