Taking the Bull by the Horns!
It's that time of the year again when we're all getting ready to welcome in the Lunar New Year - the start of another 12-month cycle in the Chinese zodiac that begins on 12th February with the Year of the Metal Ox.
Like every year, we're giving you our report card and tell you what's in store for Vermilion Pinstripes in the Year of the Metal Ox 2021? Well, we're taking the bull by the horns!

Traditionally a time of clearing the outgoing year's debris to prepare for the one to come, the New Year period enables us to take stock of past events and ponder optimistically on how to take advantage of all the opportunities coming our way.
The Chinese astrological calendar is complicated but precise – it rotates in 60-year cycles based on 12 earthly branches represented by an animal year; and five element years of wood, fire, earth, metal and water. Each earthly branch has an element, and a Yin or Yang force.
There's no doubt that the outgoing Year of the Metal Rat – with its characteristics denoting speed, activity and continual change - brought problems for us all - particularly in the shape of the COVID-19 pandemic that continues to ravage economies and businesses worldwide.
But the Year of the Metal Ox is seen as being hard-working, and trustworthy - its earthly Yin branch slow, soft and passive, and its earth element representing stability and nourishment.
Chinese astrologers predict that all the characteristics and associations in the Year of the Metal Ox point to a favourable year ahead – good news for all of us and a beacon of hope amid the darkness of the pandemic!
So, in the tradition of Chinese New Year, let's cast an eye back at everything achieved by Vermilion Pinstripes during 2020 and look at how we'll move forward in the year to come.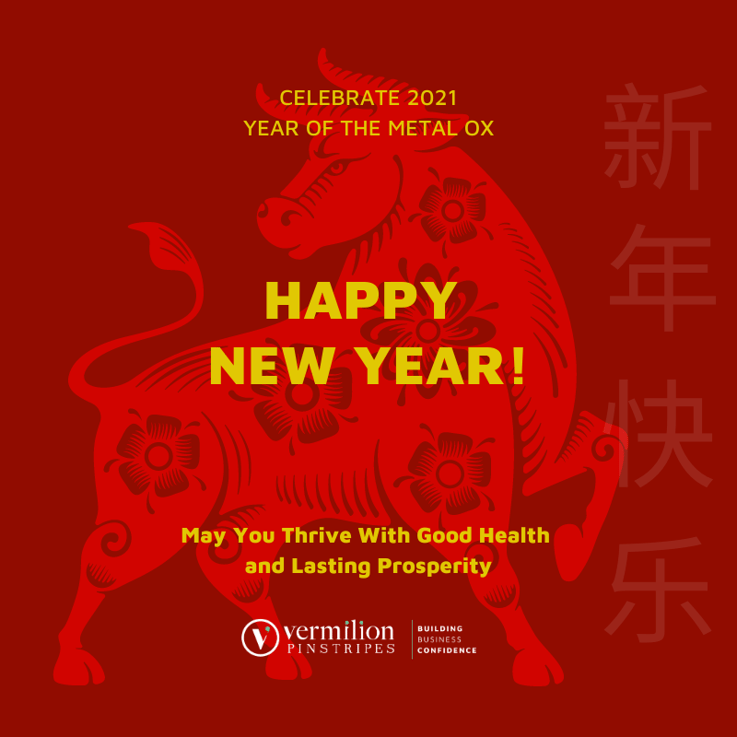 Rising to the Occasion in Strife-Hit 2020
The ancient Chinese saying about every crisis being an opportunity was never so true as it was in 2020, and we were able to demonstrate this to the max.
Because - despite an abundance of pandemic-induced stress and negativity - we made solid strides in our business services for clients – adapting and pivoting our business and encouraging clients to do the same.
Even before the pandemic hit, we were supporting Australian businesses communities affected by devastating bushfires.
Download our eBook - A Blueprint for Businesses to stay open, ready and available during the COVID-19 Pandemic
We launched monthly webinars giving simple, practical guides for business owners, start-ups and PR professionals to gain publicity and media coverage for their growing businesses and products.
Sign up for our March 2021 workshop - How to build your business website on Wix
Check out our associated free resources page here: https://www.vermilionpinstripes.com/free-marketing-resources-and-tools
When COVID-19 arrived, throwing the whole world into disarray with countries implementing their "lockdown" measures, we also rose to the challenge.

Businesses were required to have contingency plans and safe distancing measures – forcing many employees to work from home, disrupting work patterns and causing some employees to feel unsettles.

We responded to this predicament by issuing our tips for Simple and Effective Workplace Communications During COVID-19, together with a free presentation template for businesses to use in their employee communications.
See it here: https://www.vermilionpinstripes.com/workplace-communications-template
Our COVID Champions
In the midst of the COVID-19 upheaval we had clients who took bold steps to move forward and take advantage of the situation – becoming our COVID Champions in the process!
Some of these were:
Global Reach
When Singapore came out of its COVID-19 "Circuit Breaker" period and allowed businesses to host event and on-site activities again, we helped Infineon Technologies – one of the world's top ten semiconductor manufacturers – unveil its decision to choose the country as its global artificial intelligence (AI) innovation hub.
This major announcement was handled working closely with Infineon's Asia Pacific team in Singapore to craft messaging and media tactics for press releases, media briefings and executive interviews.
The story's message of digital transformation that we took to the world also had significant resonance for Vermilion Pinstripes ourselves, as it reflected our mission to open clients to new possibilities through technology for better business efficiency.
Watch the news report by Channel NewsAsia on Infineon's announcement here.
Clients Old and New Keep Us Busy
And during 2020 we were delighted to win new marketing and communications projects with growing businesses such as PM Link Pte. Ltd., one of Singapore's best-known independent project management firms that has successfully delivered complex government, commercial and residential building and construction projects such as hospitals, schools and industrial estates across Southeast Asia.
So, as the year draws to a close, we're grateful to have been able to maintain our existing clients – and to have gained new clients at the same time.
In fact – we're busier than ever!
2021 kicked-off with a bang when a project client in Singapore returned with new requirements for us to support their continuing growth and development.

This busy new year period also saw us gaining a new client, Panoptic Vision, and welcome back an old one, Construction Professionals Pte. Ltd.

All our clients are keen to embark on new marketing and communications programmes with us as they aim to grow their businesses in 2021.

We've seen a trend among small and mid-sized businesses who've weathered the COVID-19 storm - and in the process carved out strong niches for themselves.

They're all brands looking to refresh their products and services and engage more effectively with their customers - with the right support and marketing and communications strategies developed for them by Vermilion Pinstripes.
Strengthening Capabilities
2020 saw us strengthen our professional capabilities to deliver these strategies, with exciting developments that underline our stand-out expertise for clients:
Our unique Modern Marketing Framework™ gained official certification, becoming the first of its kind to be officially recognised and trademarked
We opened a new office in Canada to serve the North American market
We signed new partnerships with WIX and MailChimp
We gained new team members Selena Hata as Marketing Assistant and Sabina Sundaramoorthy for Visual Communications
Team members Yann Tyng and Adam Hyslop attained HubSpot certification
A Brilliant Future: First mover for interactive magazine ads

We marked the beginning of 2021 by launching Brilliant-Online – and exciting initiative that takes our credentials as a tech-savvy, original business thinker to the next level.
Robin Wilson has been appointed Editor of our Brilliant-Online Magazine. Brilliant-Online is an online advertorial portal and monthly online magazine brimming with interactive content, aimed at the progressive individuals and businesses of the digital era's global Gig Economy.
Brilliant-Online magazine is geared for digital devices and embedded with so many QR codes and links to videos, pop-up files, animations, audio files, podcasts and websites that it's been likened to the Daily Prophet newspaper of Harry Potter – a true multi-dimensional reading experience.
Brilliant-Online serves three distinct purposes:


Helps the business community to reach new audiences or engage with existing stakeholders to get their stories heard
Enables our clients to use it for business growth
Fills a gap in the global marketplace for a new type of publication
We're confident that in the months and years to come Brilliant-Online will grow in importance as a powerful, vital and influential component in our portfolio of marketing and communications tools.
Happy New Year!
We're delighted to have concluded such a pivotal and successful year for Vermilion Pinstripes as the one now departing.
Standing on brink of the Year of the Metal Ox, we feel confident that, far from being slow, plodding and unexciting, this Ox will be one of dynamism and further progress for us and all our valued clients.
Happy New Year!
Veronica, JohJu and Mehreen
Vermilion Pinstripes - Sales Marketing Communications

**May you thrive with good health and lasting prosperity!