Vermilion Pinstripes was recently featured in Focus Magazine (September 2017).
For businesses to pace and outgrow their competition they need to have brand confidence. In order do that, businesses need to make the complex simple" - Veronica Lind, Business and Marketing Strategist, Vermilion Pinstripes.
It sounds easy but it's difficult to do, because there's a need for sales, marketing, PR and internal communications to integrate and work together as one. The complexity is in harnessing art, maths, science and psychology to develop the right strategies and initiatives so as to achieve business vision quickly and within budget.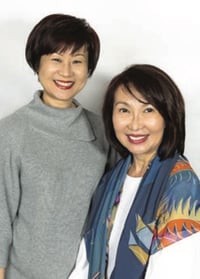 Speaking to FOCUS, Veronica had just announced Vermilion Pinstripes, a collaboration between Vermilion Marketing, a specialist in inbound marketing which has been helping local and regional companies in Australia sustain growth with quality demand generation, and Pinstripes Communications of Singapore, which has a successful track record of helping multinational clients build mindshare in Asia Pacific region.
"We're coming together to help businesses thrive with brand confidence," adds Veronica. "As a full service marketing and communications provider, Vermilion Pinstripes offers a comprehensive portfolio of services to help clients align sales with branding, demand generation and communications to achieve business value."
One of the businesses which has benefited from Vermilion Pinstripes' expertise is TG's Child Care and Preschool. According to Gayle Kee, General Manager of TG's Child Care and Preschool, Veronica and her team has given her team at TG's a new lease of optimism and drive. "You have helped us find our direction and given us a rebirth of enthusiasm!" says Gayle.
One of the coolest ideas which TG's and their communities love is the online "play room" - a newsroom modelled after TG's belief that playing is learning for life. This "play room" serves to provide parents, media and other public the latest corporate developments at TG's and makes information enjoyable for everyone.
"Our new newsroom looks awesome!" says Gayle. "We're amazed at the magic! We are so grateful for everything you bring and do for growing and developing TG's to new levels."
Another fun element that Vermilion Pinstripes has bought out of TG's into the on-line world is fun outdoors. TG's Child Care and Preschool boasts an award winning outdoor playscape meticulaously designed and constructed by Trevor Kee, Architect for outdoor learning, whose work is easily recognisable and famous throughout the country.
These playscapes provide an all-rounded stimulus in social, emotional, cognitive, creative, passive and active development. Each area in the playscape is exible and allows children to develop their own unique experiences and exploration.
Even adults, particularly fathers of the children attending TG's, have taken to that playscape, enjoying quality time to bond with their kids through unique experiences and exploration.
With the newfound brand confidence at TG's, Gayle is all smiles about discussing a positive future ahead with Vermilion Pinstripes. "We've all learnt much and look forward to implementing your ideas and strategies. Your experience and expertise is incredible. We are so excited for our future plans together."
About Vermilion Pinstripes
Vermilion Pinstripes is an integrated marketing and communications partnership formed to help businesses across Asia Pacific thrive through purposeful and integrated engagement with their customers and prospects. Our combined team has the global expertise to help our clients achieve their goals better, faster and on budget, because we make the complex simple. We represent leading marketing technologies such as Hubspot, Active Campaign and Kounta. We are proud to count growing local, regional and global businesses among our clients.
For enquiries, please write to info@vermilionpinstripes.com or book a 30-min free consultation.
Vermilion Pinstripes Sales Marketing Communications is based in Port Macquarie, Australia and Singapore.
____________