Mehreen Hasan
Marketing Technologist and Manager at North America Office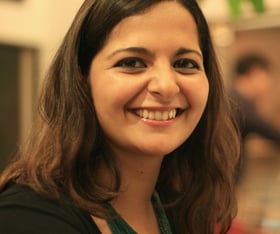 A Marketing Technologist is born when Digital Princess, Mehreen Hasan meets Speedy Gonzales, Veronica Lind!
Mehreen already has a strong technology background, so switching from Communications after 10 years to her new role as Marketing Technologist with Vermilion Pinstripes was easy. Her strengths and expertise heightens with mentorship from Veronica Lind and this benefited many small businesses in Asia and Australia as she creates active playgrounds of engagements in today's Experience Economy.

Mehreen was previously Marketing Manager with global training, consulting and conference service provider, Pink Elephant, a company with a pioneering and innovative spirit that has been introducing and spearheading revolutionary concepts and programs for 40 years.

As a Marketing Technologist, Mehreen supports clients on web development, sales ad marketing automation including social media, eMail marketing, Google My Business and technology integrations. Her experience in content development and media relations has been instrumental to executing Modern Marketing campaigns.
For example, when the COVID-19 pandemic caused local businesses in Japan to close their physical operations, Mehreen worked closely with My Body My Pilates based in Tokyo, behind the scenes to empower them to stay connected and engaged with their clients through digital platforms. Within days, the client was able to offer online Pilates classes for their clients and even added extra classes for new client segments! As a result of her work, Mehreen has been able to ensure that My Body My Pilates remains a happy business with happy customers and regular revenue!

Mehreen began her career at international public relations giant Weber Shandwick executing creative multi-market campaigns and communications initiatives for a number of global and regional clients including Microsoft, Nortel, Business Objects, SK-II, Carlson Wagonlit Travel and Temasek Holdings.
She later joined Pinstripes Communications (now known as Vermilion Pinstripes) to lead media outreach, editorial and research projects for clients such as Agilent, Honeywell Process Solutions, LexisNexis and Oracle.

A smart, articulate and creative thinker, Mehreen is adept at managing multi-cultural projects beginning from planning stage to execution involving message development, collateral development and logistics, to global co-ordination, reporting and day-to-day management.

Mehreen loves learning new languages, both those spoken by humans as well as computers :)
Today's digital, "always-on" economy provides so many exciting opportunities for businesses to maximise their exposure by combining marketing and technology. I'm delighted that my background in marketing and communications, working for an agency and in-house, and for companies in Asia, Australia and the Americas have benefited many clients who engages Vermilion Pinstripes.

- Mehreen Hasan

---
Our client, Accomplished Tree Management sent this from his customer!
After having read multiple websites in search of a qualified, caring and well informed professional, your site stood out in all three areas!