This presentation template (adapted from YouExec) is our way of helping the Community. We hope that it will help you with simple and effective workplace communication during COVID-19. Please feel free to reach out to me at johju@vermilionpinstripes.com to let our team know if it has helped or just to chat about what other resources you would welcome.
If this free resource has helped you, please pay it forward with another good deed for the community. Let's make the world a better place together!
Download the Workplace Communications Template by filling in the form.
Want more?

Chat soon!
Communications Strategist, Vermilion Pinstripes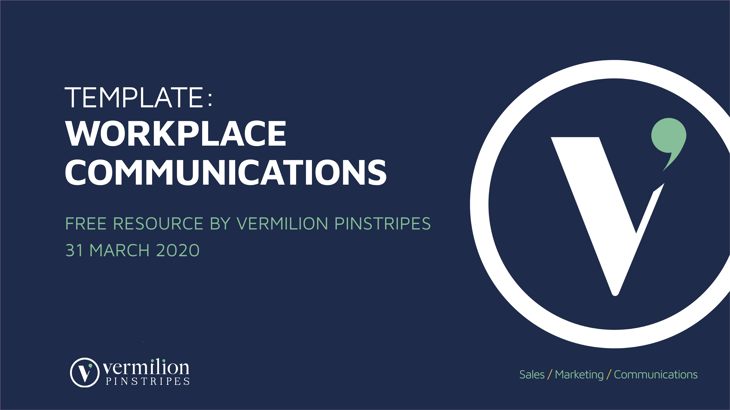 About Vermilion Pinstripes

Vermilion Pinstripes is a modern sales marketing and communications agency driven by a singular mission:

To help businesses thrive with confidence.

We harness the power of our collective expertise in business, communications, marketing and technology to help brands achieve their goals. This is through our Modern Marketing framework which guides teams to orchestrate the customer's journey as one voice, one brand.

We are operating in The Experience Economy today. Modern Marketing empowers experienced B2B business, marketing and communications professionals on their journeys of growth for their brands.

Sales office: AUSTRALIA - Sydney, Port Macquarie, Melbourne and SINGAPORE