Charlene Tan
Director, Modern Marketing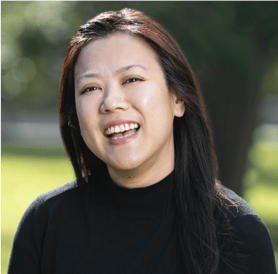 Charlene has been riding the waves in the modern marketing digital space for more than 18 years. Her marketing experience is firmly rooted in building, tracking and optimising customer acquisition campaigns based on data-driven responses and automation.

She excels at boosting the sales funnel with high quality Marketing Qualified Leads for accelerated conversion to Sales Qualified Leads. By focusing on a strong start in customer value exchange, Charlene builds a solid customer funnel facilitated by technology so that customers can take action faster than they could their own throughout the sales cycle.
Though technology is key to Modern Marketing, the fundamental principles of human motivation remain remarkably consistent. As a Modern Marketer, I help businesses engage their customers - like humans - in a way that resonates before deciding what technology to apply.
Charlene's role at Vermilion Pinstripes is to keep the creative juices flowing, to constantly improve Modern Marketing techniques techniques to engage customers with valuable content. It is what Charlene loves to do – design material to attract qualified prospects and convert them into leads and customers.
A wakeboarder turned runner, Charlene moved to Perth from Singapore and then to Melbourne. Hot on her heels is her constant trusty sidekick - a feisty little white Maltese that is blind but ever ready for a fun ride in her trolley. If you are lucky, you may even get to meet the dog in person at a marketing meeting.
If you are a business based in Melbourne Victoria, email Charlene or call her on 0449501277 to discuss Modern Marketing. You could also drop her a note to ask if her little Maltese is keen to join you for a spin on the trolley.
---
Vermilion Pinstripes in Melbourne help clients customise and personalise engagements with their most attractive customers using Modern Marketing techniques, which are reliable, cost efficient and scalable for replicable value.

- Charlene Tan