Vermilion Pinstripes opens new sales office in Victoria!
We are growing! We're so excited to share that we have been thriving over the years and we now have a third sales office blooming in beautiful Victoria, Australia! Our team of creative, business and technology professionals is growing! And they are all raring to help clients on their journey of growth!
Charlene Tan heads Victoria sales office
Our new sales office is now formally registered and ready to help even more happy businesses thrive into 2020 and beyond. With our three sales offices in Singapore, New South Wales and now in Victoria, we are well-prepared to help companies build business confidence and sell without selling.
Over the years, we have worked really hard at getting many small and B2B businesses off the ground while at the same time making sure we set a good role model by getting our own business soaring too!
Our clients trust what we can do for them because we have also constantly demonstrated that we apply our business and marketing strategies to our very own business too. Definitely tried, tested and successful!
2019 has been an especially rewarding year for us and we are really proud of how much we have accomplished for our different clients. From international sustainability projects with Infineon Technologies and Rabobank to local businesses in Australia such as TG´s Child Care, Just Beautiful or Beach to Bush Trike Tours, we have shared our knowledge, tools and experience to help each unique business grow.
Check out our full year 2019 report here to see how we have helped these different businesses step into 2020 with confidence!
2019 saw us focusing on 4 main areas, helping clients on their journey of growth:
Heighten brand online visibility

Deepen brand association

Sell without selling

Business expansion
Even established businesses need to continue heightening their brand online visibility.
Just existing in cyberspace is not enough. There are many tools and channels available and we help our clients choose the most appropriate and effective for their business. Google My Business is an effective way to get and increase visibility online. You want people (the entire planet in fact!) to be able to find you. With local businesses like Accomplished Tree Management, Beach to Bush Trike Tours and Mid North Coast Diagnostic Imaging, making sure they are putting interesting bits of information out there regularly is a way to engage with clients and entice them to find out more about these businesses.
Deepening brand association helps a brand to expand and extend its outreach.
Just like the neurons in our brain, when a brand can extend its association with other projects, values or partners etc., potential clients do not get bored thinking of Brand X = One Single Idea. With Infineon Technologies and Rabobank for example, they have organised some really exciting events that involved many other like-minded organisations that share their sustainability values. There is movement and action and involvement beyond the brand itself, extending into its very community. This gives a brand ´meat´ or substance. It is not just a brand with empty talk. For example, Infineon Technologies had their annual technology symposium OktoberTech Asia Pacific 2019 which attracted the industry's leading innovations. Rabobank brought together enthusiastic innovators to their SustainableAg Asia Challenge. Hastings District Flying Club has been hard at work with their Flying Scholarships to encourage youths in the area to take to the skies. Hook your clients with a specific, clear and valuable association and they will remember your brand.
Sell without selling has always been one of our favourite things to do.
One of our clients My Blue Tea is a prime example of this. They are not actively forcing down people's throats the message of Buy From Us because We Say So. What they are doing is simply making people salivate when they enter their website or other social media channels like Instagram. They engage clients with sensory recipes and health tips about their products. And they exude a feel of genuinely enjoying what they are selling. Clients naturally start clicking away and putting products in their Checkout Basket. Sell without selling. For Vermilion Pinstripes, we have also been doing our own sell without selling by sharing knowledge with our communities. Veronica Lind, our Business and Marketing Strategist, gave a talk at Word Camp Port Macquarie in October 2019 about how Modern Businesses don't need to Promote their Products. We also hung out with fellow modern marketers at our How to do Modern Marketing in 2020 workshop in Singapore in October 2019 to talk about the new art and science of sell without selling.
Business expansion
We know we are on the right track when we get busy helping our clients expand the business they started with when they first came to us! We are so proud of TG's Child Care as they are growing and we love helping happy businesses grow! We are also currently working with Mid North Coast Eye Clinic as they prepare to bring excellent eye specialist services to Port Macquarie.
As you can see, we have really been very busy and a third sales office is clearly a much needed addition in our happy business! We grow together with our clients and we love every minute of our job. Modern Marketing is never static and we can never sit back and say, yes, we've got it and put up our legs. It is constantly evolving. Which is a good thing. It means there are always options and different ways to make a business thrive.
Come join us at our next workshop in Melbourne in March 2020 and you can see for yourself why we can continue to grow and how we have helped our clients see results and grow in confidence. We will be taking a deep dive into implementing B2B Modern Marketing Strategies, all ready to face 2020! And if you are in Victoria, drop by our new office and have a chat with us about how to make your business a really happy one!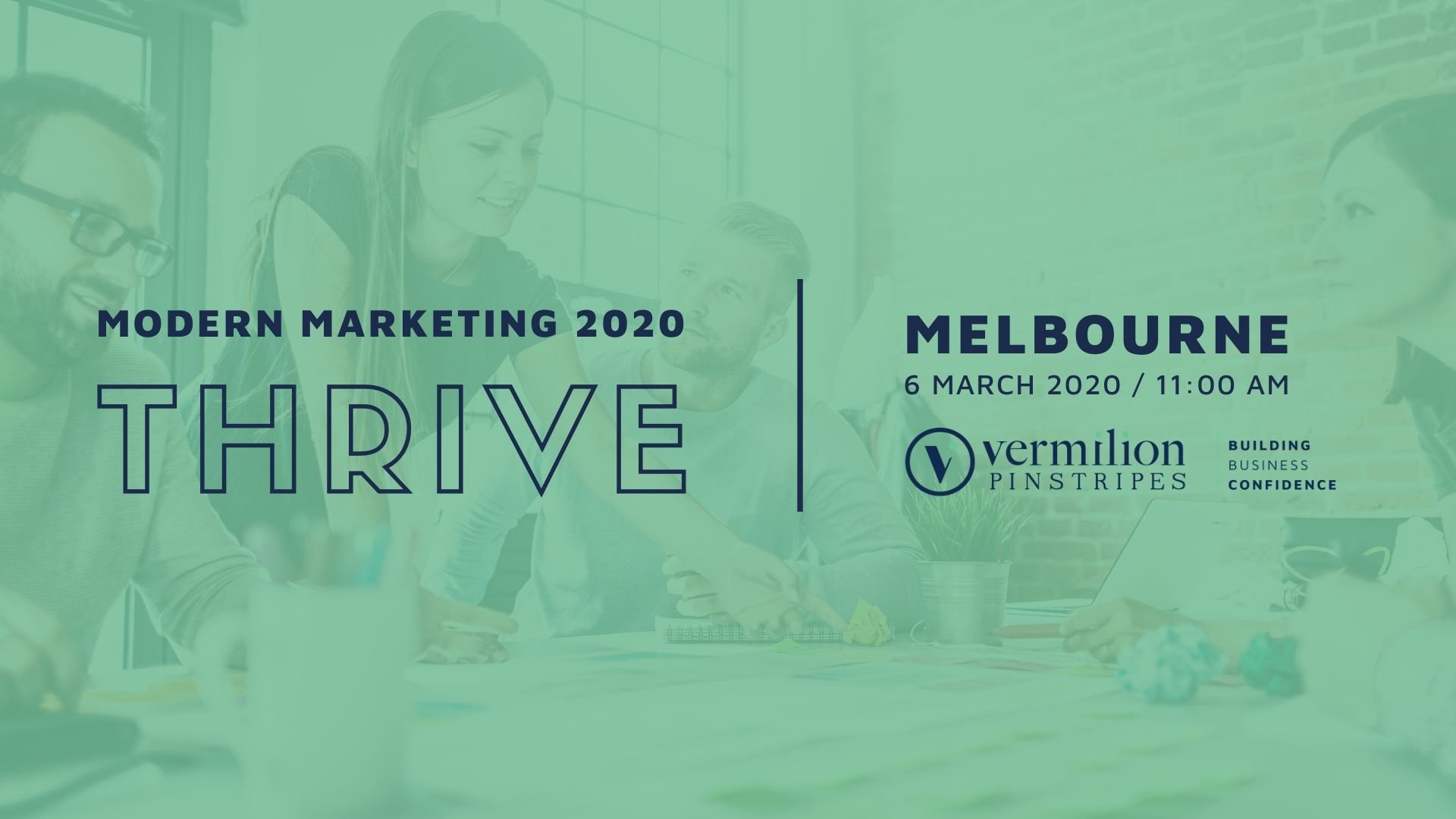 About Vermilion Pinstripes
Vermilion Pinstripes is a modern sales marketing and communications agency driven by a singular mission:
To help businesses thrive with confidence.
We harness the power of our collective expertise in business, communications, marketing and technology to help brands achieve their goals. This is through our Modern Marketing framework which guides teams to orchestrate the customer's journey as one voice, one brand.

We are operating in The Experience Economy today. Modern Marketing empowers experienced B2B business, marketing and communications professionals on their journeys of growth for their brands.

Sales office: AUSTRALIA - Sydney, Port Macquarie, Melbourne and SINGAPORE