Australia, it's time to venture out again with so many beautiful sights to explore.
Australia has been through a harrowing time with bushfires and drought. It is devastating as we helplessly see fires engulf so much of our natural beauty and treasures. There is barely a respite for everyone before heavy rains descended and people went from fighting fires to coping with floods.
Globally we are fighting another worrying situation - the 2019-nCoV outbreak. People are fearful of travelling and being in crowds. It is an added burden to what we already have to deal with.
Many businesses especially those in the tourism industry have been harshly affected and it is a tough period for many to pull through. While it may appear all doom and gloom in the news, Australia is much more than just bushfires and floods. It is a huge country and there are still so many beautiful sights waiting to be explored.
Vermilion Pinstripes is doing their bit to make businesses Happy again.
The NSW government has launched a tourism recovery plan Now's the Time to Love NSW. Australia is eager to welcome back visitors to enjoy its amazing natural wonders. The campaign is set to rejuvenate the tourism industry, help local events and tourism businesses to develop and flourish again.
Vermilion Pinstripes is encouraging businesses in the cities to organise their meetings and events in regional towns like Port Macquarie. We provide free marketing and communications consultancy to those who need to be back in business.
We are rooting for local businesses to revive and thrive again. Here we showcase two of our clients in Port Macquarie who are bravely striding on, sharing their passion about Port Macquarie with visitors. We are so proud to be a part of their growth.
Trike your way through Port Macquarie
Our first client, Beach to Bush Trike Tours, has their trike polished and oiled, and ready for some spectacular adventures around Port Macquarie!
What visitors may not know is there is a total of 17 beaches in Greater Port Macquarie! And here's a precious little tidbit - you may even spot the gentle giants of the sea - whales …and even some frolicking dolphins!
Gray Connelly, owner of Beach to Bush Trike Tours says, "I love taking visitors on our Port Macquarie Costal Trike Tour - it is a refreshing and rejuvenating ride. Being near the sea always brings me into a calm mood and just facing the immensity of the sea is a quiet, humbling experience. When I take visitors on this trike tour, our favourite moment is when we stop at Gaol Point lookout. Time temporarily stops here as we take in the magnificent view of Port Macquarie. It is at this spot where visitors turn into friends as we exchange and listen to each other's stories. These are the perks of my job, that makes it more than just a job. These are moments when I make beautiful connections with the people I am touring with. Since starting Beach to Bush Trike Tours, I have listened to so many amazing personal experiences from people around the world."

If you come to Port Macquarie, you cannot possibly miss the Bush Trike Tour that takes you to one of Australia's most iconic scenic sights - the bushland. Gray passes through miles of bushland and you can soak up the smells of the countryside. Then stop at the Beechwood Hotel for a rock solid, hearty, traditional Australian counter lunch! This is a traditional country pub and the people running the place are always looking forward to seeing who is coming up next on their trusty trike! Gray has loads of anecdotes and historical tidbits to share with visitors and you can be sure of a very warm Australian welcome when you arrive.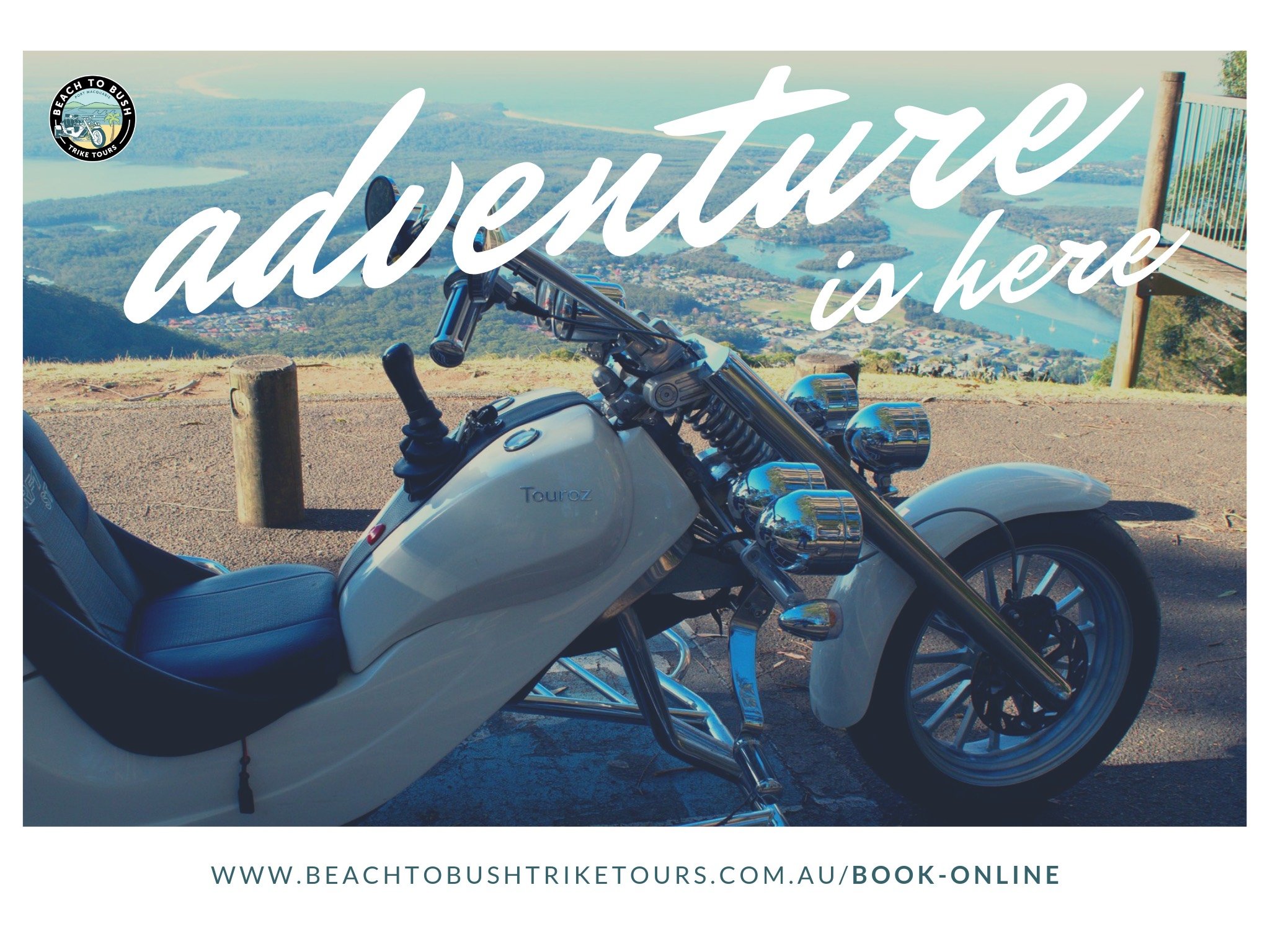 If you cannot decide between Beach or Bush, you can do both on Gray's Beach to Bush tours! It lasts 4 hours which will feel more like just 2 hours as there is so much to see and soak up. Gray's trike is sturdy and roomy so it makes for very comfortable steady rides. This tour takes visitors to Lighthouse Beach through the luscious Sea Acres rainforest canopy. From the deep greenery to the vast expanse of the sea - not many places offer such a contrast of sights, sounds, smells and textures all within the same area. The highlight of this tour is North Brother Mountain. The view from this point is exhilarating to say the least. Gray has been up here so many times and he confesses he is still blown away. One just never knows how the sun, the light, the clouds, the winds are going to be when one is up there. This is one place that is hard to pull photographers away from. It is a shutter happy spot and Gray has had to remind visitors constantly it is time to go and get back on their trikes! Gray is one lucky man to get to be up here so often!
Booking a trike tour in Port Macquarie is easy. Just jump on their online booking system and choose your tour or purchase a voucher - https://www.beachtobushtriketours.com.au/book-online
Check out our blog on Modern Marketing for Start Ups which describe the work we did for Beach to Bush Trike Tours. Vermilion Pinstripes built an easy, beautiful website for Beach to Bush Trike Tours and set up their online tour booking system with Bookeo.
Contact us if you want something similar.
Walking through Port Macquarie's past
After enjoying the scenery of Port Macquarie, you can now learn its history. There is a wealth of stories of Australia's past, and there is nobody better to hear it from than Mitch.
Mitch McKay of Port Macquarie Hastings Heritage is a captivating story teller. Take a walk with him on his historical walking tours, and you will get to see Australia in a completely different light.
Choose one of his Port Macquarie walking tours.
Uncovering our Past with Mitch takes you deep into Port Macquarie's History and Archaeology. Port Macquarie is the traditional country of the Birpai and has a fascinating past. This goes back to 1821 when it was founded by the British as a penal settlement. This walking tour is a good way to get to know Port Macquarie. Going on foot through the streets allows you to engage vividly with the town's history. As Mitch shares tells his stories, each pebble, stone and tile comes to life. Each historical site in Port Macquarie takes on its own identity and flavour in this walking tour.


For those who secretly love a macabre twist, go with Mitch on his Grave Tales walking tour. This is one eerily fascinating tour as you walk through Port Macquarie Historic Cemetery where nearly 1,500 soldiers, convicts and settlers are buried. The silent voices of every single soul in the cemetery have intriguing stories to tell. Mitch has a gift for keeping visitors spellbound with the rich history of the cemetery. There is also much to learn about the ongoing conservation of the monuments. Not for the faint of heart, but definitely for those who have an appetite for beautiful human stories of courage, loss, sacrifice, grief and love.
To book Mitch McKay's Port Macquarie Walking Tours, go to his website - https://www.pmheritage.com.au/walking-tours
We designed and put together this beautiful website for Port Macquarie Hastings Heritage and this is what Mitch had to say -
Veronica and her team at Vermilion Pinstripes recently gave my website, Port Macquarie Hastings Heritage, a timely major overhaul.
They don't just work for you THEY WORK WITH YOU massaging your ideas by using their talents, expertise and knowledge to create a fantastic website - one that you can be proud of.
I would highly recommend Vermilion Pinstripes. Thank you Veronica.
Don't wait. Support the tourism in Port Macquarie and help businesses recover quickly. Get on a trike or go on a walking tour and discover for yourself how much Australia has to offer and experience just what a stunning beautiful country it is.
About Vermilion Pinstripes
Vermilion Pinstripes is a fully integrated sales marketing and communications agency who use a mix of modern marketing technologies like websites, social media, emails aligned with very powerful brand messages and powered by sales and marketing automation like HubSpot and Bookeo, so businesses can sell without selling.
Book Veronica for a free marketing and communications consultation