It's time to build a healthy online presence
Challenge: "Many know me as the Turmeric Lady. During Covid lockdowns, I couldn't sell at the markets. Everything that has happened has become more unpredictable. I wanted to continue engaging my clients and bring my natural healthy solutions to more people. I'm also expanding my health product range. How can an online presence help me do that?" - Alison Carroll.
Solution: As a small business owner, a strong online presence starts with a good website. Let's talk about how that is going to look for you based on what you are offering, why you are offering it and how we can maximise the digital space for that.
Marketing Implementation: Consistent Branding, Content Development, Website, selling on Facebook
Testimonial:I'm so proud of my own website! It's easy for my customers to find me online and continually buy from me. I have technology nightmares but Veronica is always at hand to help explain things and show me what to do. She knows exactly what I need and had all the various policies written up to suit my business plus all my online channels are now aligned and optimised ... at last! I can't be happier. Thank you!
We never tire of getting to know the myriad of small businesses that are coming up in Port Macquarie. There are so many amazing people bringing valuable services and products to our communities, and we are a part of their journey to making their business thrive.
Recently we met the famous Turmeric Lady, Alison Carroll. We love the sound of her nickname and it's in our conversations with our clients listening to them that we really get to hear the essence of what it is they are really selling.
For Alison, since discovering the miracle of Turmeric and using it for many years to manage her pain and boost her immune system, she has dedicated her life to supporting thousands of people on their healing journeys towards optimal health.
Using simple, natural solutions, clients can make a real difference to how they feel inside and out. Alison has been continuously research other natural remedies, and now she is including hemp in her range as well.
Alison approached us about getting an online presence for her business. Word-of-mouth is great and it can only reach so many people. Having an online presence means literally anyone from anywhere in the world can get to know you, and have access to your products and services.
And of course, this is what we love doing, and what we do best - helping businesses sell without selling and thrive through the use of modern marketing such as lead generation technologies.
More than just Modern Websites
From listening to Alison and getting to know her story and her products, we were able to clarify the core emotion of her brand, as well as the voice and message she wanted to convey.
A website is not a dumping ground of information. It represents you and your brand, and everything that people can associate with it.
As the Turmeric Lady, we wanted to make sure even the colour schemes would match the voice. Orange is a challenging colour to navigate, but in Alison´s case, it fitted perfectly with her business that has started out being famous for turmeric.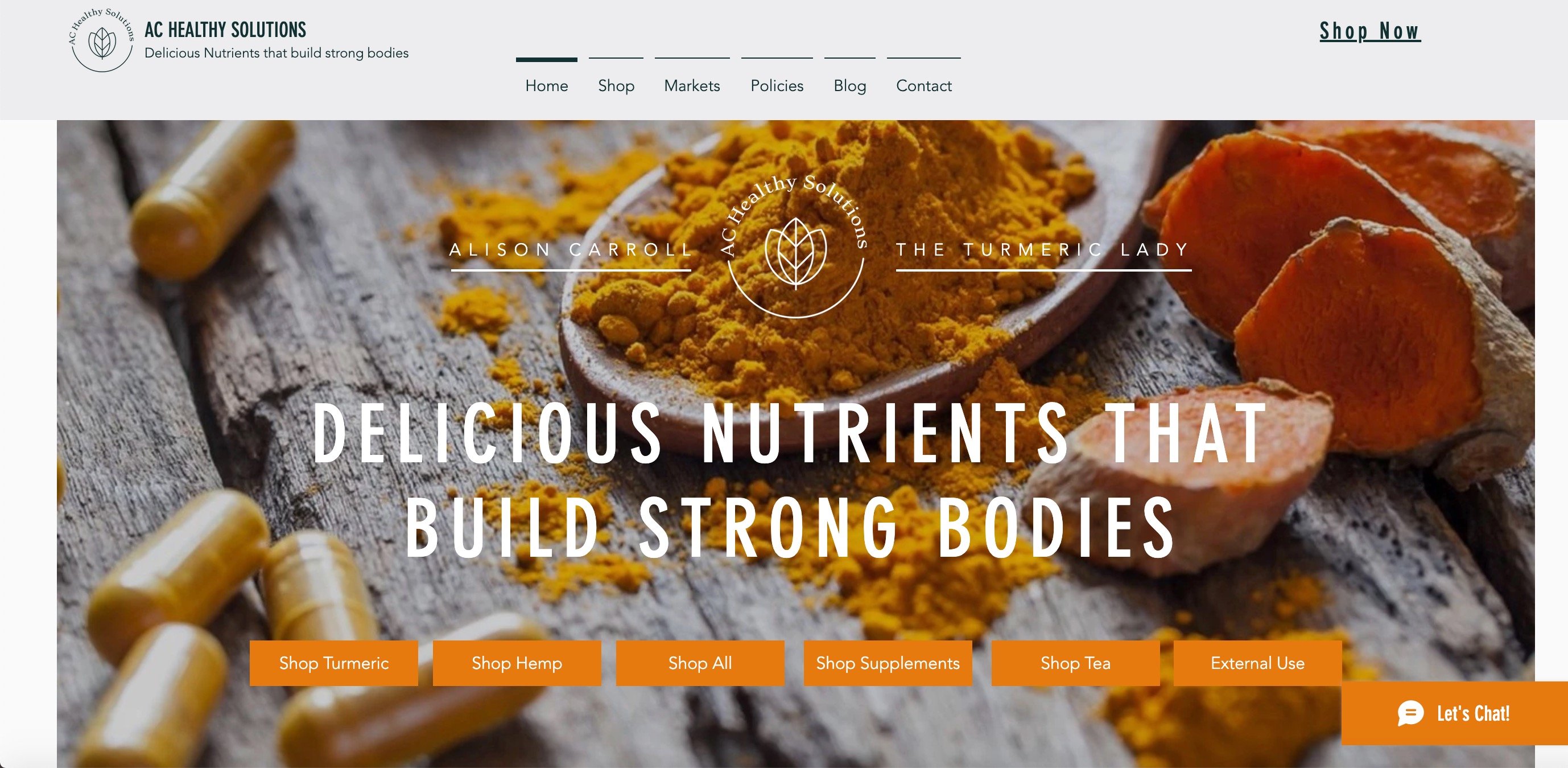 For Alison, we kept the website as clean as possible, focusing on her products, the markets where she can often be found, and her blog to share information about her research. A highly congested website is not effective, it just confuses people. Go into her website and you'll see how clear it is - Shop, Markets, Blog. Alison sells her products at various markets in the Mid North Coast and it was important for people to know where she's at each week. Her website adds an additional sales and support channel for customers. It's designed in a way so you want to engage immediately with Alison because no precious time is lost navigating or trying to make sense of the website.
Check out her new website here: https://www.achealthysolutions.com/
A simple logo speaks a thousand words
She also wanted a simple logo that would visually help people to recognise her brand immediately. We simply update it aAs her healthy solutions are simple, clean and natural, we wanted her logo to reflect that too - simple white lines that are elegant and with a symbol of a leaf from nature.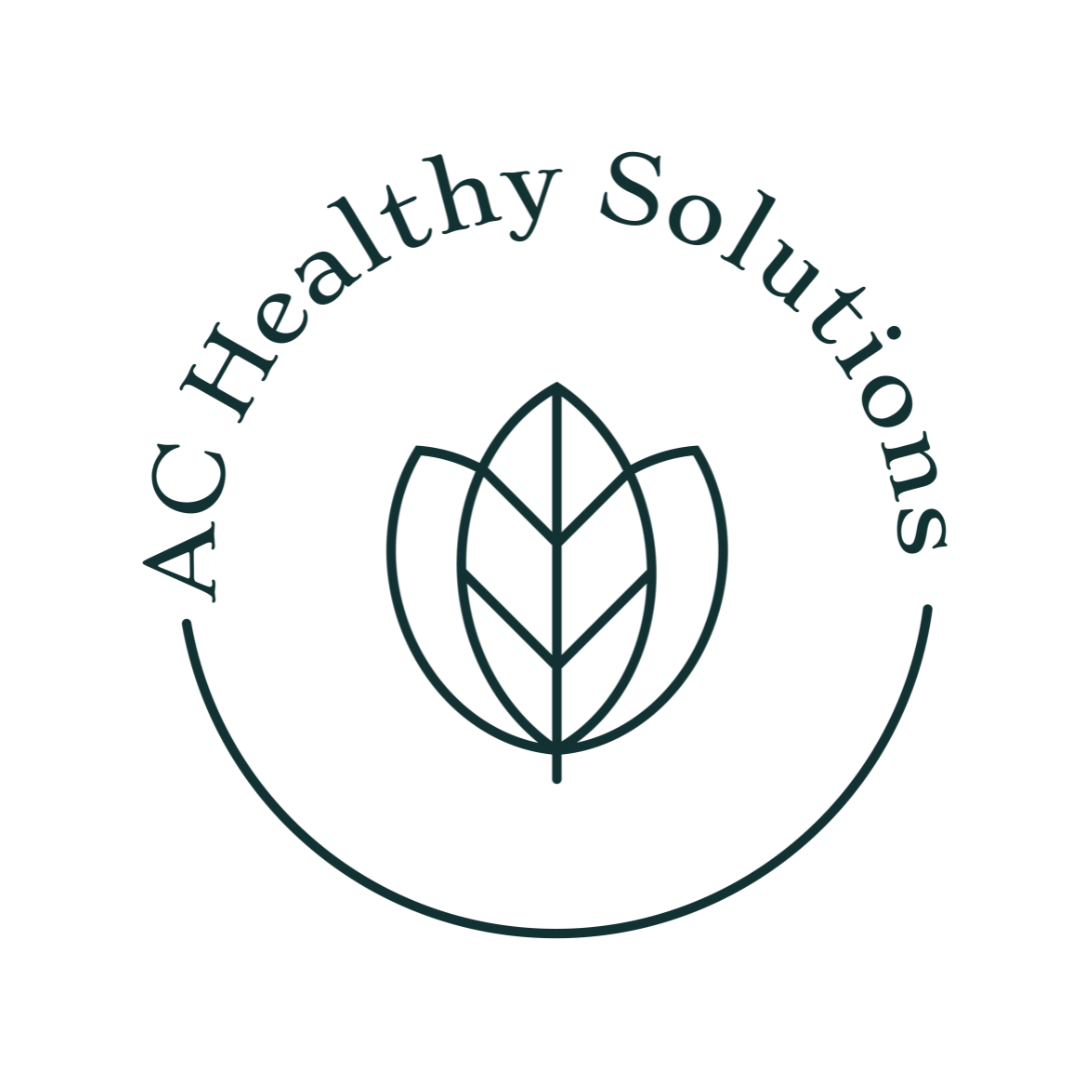 Optimise your socials
It wasn´t enough to sell her beautiful products on the website. Alison has a Facebook for her business, and we also went in there and did our magic so she could sell her products through Facebook. We want to make it easy for anyone to first of all find the Turmeric Lady, get to know her and her business, engage immediately, and ultimately to make it really quick, efficient, fuss-free to obtain her products.
We are excited to help AC Healthy Solutions up and going with sharing their beautiful natural healthy solutions with so many out there. We are proud of the work we do when we see our clients thriving and fully living their happy businesses!
Modern Marketing for Start Ups
At Vermilion Pinstripes, we enjoy working with small businesses and B2B customers to help them accelerate sales and build business confidence. We have the experience and tools to support them on their learning journey and we are always ready to celebrate their success when they thrive. Speak to us, and see how easy it can be to sell without selling and make your business a happy, confident one!