Revving Up Business With a Trike
Challenge: "I am a passionate motorbike rider and I want to start a new business taking visitors on an adventure in my trike. I want them to enjoy the beaches of Port Macquarie and the hinterlands of the Hastings District. But I don't know where to start?" - Gray Connelly.
Solution: Let's start with the Drawing Board. Several business discussions began with practical issues. Then the marketing kicks in.
Marketing Implementation: Branding, Content Development, Website, Social Media Optimisation, listings with visitnsw.com, Google My Business and Trip Advisor, Bookeo online booking
This is amazing, thank you so much Vermilion Pinstripes.
You have really hit the nail on the head. WOW I am over the moon. - Gray Connelly, Beach to Bush Trike Tours
We love seeing how new local businesses are springing up like mushrooms in Port Macquarie. Recently we worked with an exciting new start up that is taking local and international visitors across Australia on a three-wheeled vehicle!
Beach to Bush Trike Tours was born on 1st June 2019 and it is the brand new baby of Gray Connelly, a licenced and experienced motorbike rider and driver who has a passionate love affair with Port Macquarie. Gray is the friendly guide of Beach to Bush Trike Tours, the only trike tour in Port Macquarie. His job is the envy of many, as he gets to take visitors around beautiful coastal Port Macquarie, wander into the hinterlands of Wauchope, Beechwood or go up to North Brother to fill his lungs with fresh air.
When Gray first approached Vermilion Pinstripes, we were secretly dying to go on a round on one of his trusty trikes! But we got down to business first and got together with Gray to do some brainstorming on business approaches and positioning. A simple idea of taking people around on a trike visiting beautiful places needs to be fleshed out to make it exciting and attractive to customers. What emotions do you want your customers to experience? What is your brand message? What values do you want to share with your customers?
Start with the Drawing Board
Business discussions is where we kick start the practical issues.
So, starting with numbers, we discussed the pricing structure and type of tours that would be practical, safe and interesting. This is where we implement our go-to-market strategy. How does one enhance customer experience, taking into account these factors, while at the same time making one's business unique and profitable? How much does one charge so it allows the business to be a happy business and which can continue for a long time to be so?
When we spoke to Gray about campaign messaging, we wanted to make the business´ message very clear. What is Gray offering with his business i.e. is he filling a gap or a lack in the industry, what solution is he offering and what action can a potential customer take with this business. We talked a lot about his target audience - as much as we want the whole pie, biting off more than you can chew would create a very confusing message for all customers. Instead, focus on a slice of target group so you can research well what they are like, what makes them tick, what attracts or repulses them and then position and polish your message so it is clear and relevant.
The Meaty Part
Once the brainstorming was over, it was time to roll up our sleeves and work on the mammoth job of setting up the website. We thought about the structure of the site, the contents, and even the psychological emotive bits like making sure the feel of the website (content, language style, colours, textures) is consistent with the logo and the business.
The ´meaty part´ of a business is found in its content and this stretches across the website, social media, print materials like brochures etc. We made sure the content of the website is kept clean and neat - it offers customers enough information to get to know the business without being overwhelming. We helped Beach to Bush Trike Tours write up their story so visitors to the website can get to know them. This is an important text in the website as it basically introduces the business to website visitors and it is akin to a first impression. We wanted it to reflect how Gray is, his friendly personality and to convey the passion and experience he has for the services he offers.
As it is a company offering tours, we suggested implementing a Bookeo online booking system which can be integrated into the website, making it easy for customers surfing the website to immediately make a booking 24/7 in different languages. This is one of our favourite examples of making it easy for customers to buy. We set up a Stripe payment system and also implemented a QR code on their brochures so all you need is to scan and get your booking done. Check out Beach to Bush Trike Tour's online booking section and when you see how convenient it is to just click and tour, you may well want to book a tour right now!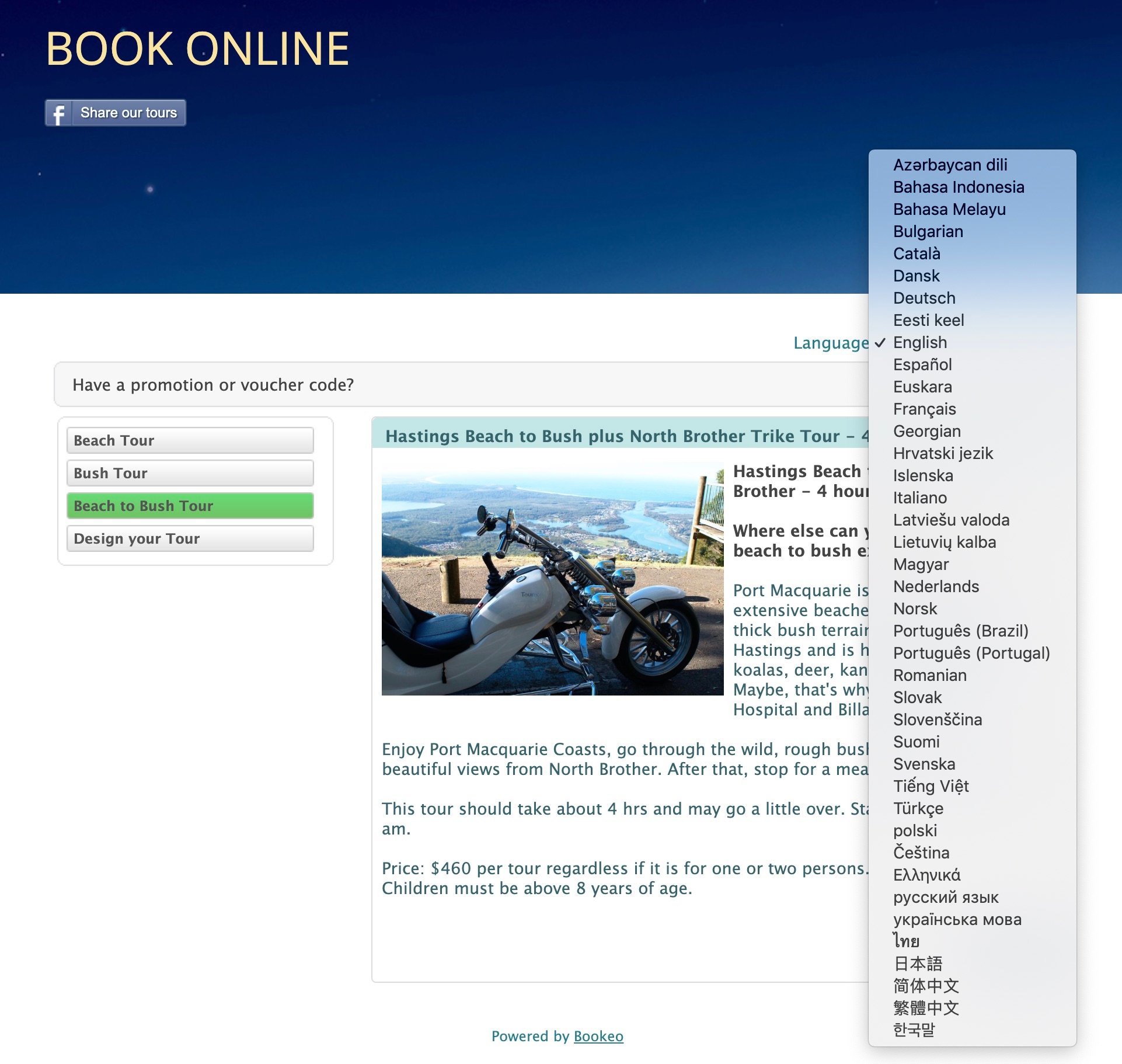 Social media offers many channels such as Google My Business, Facebook and Instagram to help a business reach out to an infinite number of customers. Google My Business helps them to promote their services, increasing the outreach with effective, simple and clean information in small chunks that are easily digestible. It also allows customers to contact the business easily and quickly and also check practical information related to the business such as operating hours, type of tours and contact information. Optimising social media does not mean drowning the channel with information. We looked at which channels and what content would be most suitable. We also talked about how often content can be offered. Photos, short reviews from happy customers, interesting bits of information to pique their interest, giving very clear and practical information that is useful, or describing emotively an experience connected with the service are all ways to make your social media channels stand out.
Blogging is another way to flesh out a business. It creates valuable and interesting content that engages your customers and offers them a way to get to know more about you. Take a look at Gray's blog section and learn a thing or two about trike tours! All these written content across the channels have been carefully thought over and chosen to help boost the SEO of the business. Gray may trike all over Port Macquarie and beyond, but we really want customers to be able to find him easily in cyberspace!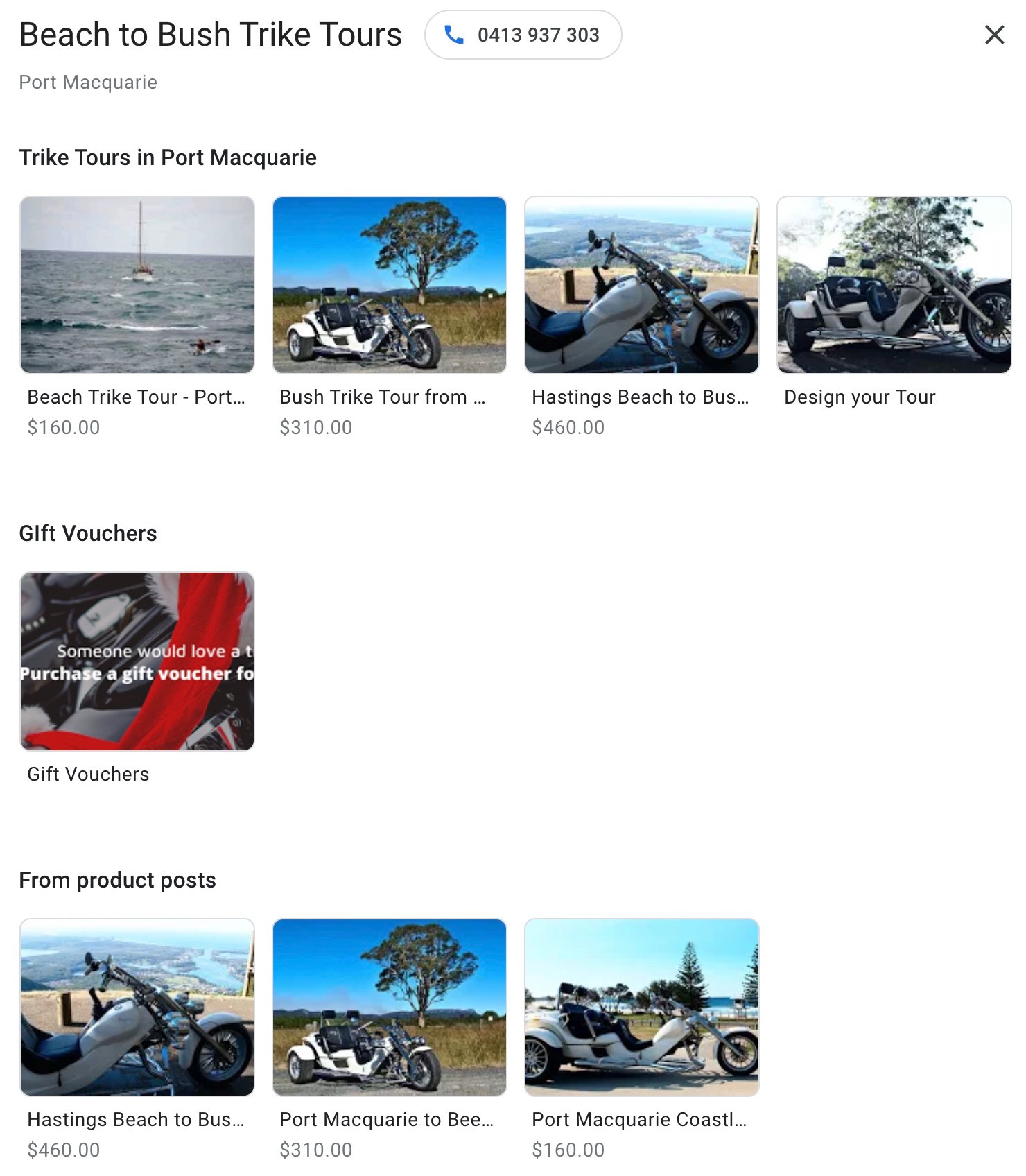 Tying Up Loose Ends
Getting a start up literally up and running is no mean feat. It is easy to forget a few ´minor details´ which may turn out to be highly important in the business, simply because they are not usually the first thing a business thinks about when you say Sales and Marketing. For example, we listed Beach to Bush Trike Tours business and tours in Australian Tourism Data Warehouse so that the business is registered as an authorised service provider and licenced tour operator. They can then be featured in Australian Tourism and Port Macquarie Information. Promotion across other websites is also a good way to extend awareness of the business. Another important thing Gray had to do was to make sure he got his police check and insurance cleared and kept current.
Of course, Gray and Anya had training too so they can manage their online bookings.
There are so many aspects required to make a start up thrive and become a happy business, and that is why we need a team at Vermilion Pinstripes to make sure each of these aspects are covered and looked after.
We are really pleased to see how well Beach to Bush Trike Tours is growing and if Gray is busy taking visitors from all over the planet to experience the sun and sea of Port Macquarie or saying hello to the cows and horses in the bushland, you can still reach him online. And we are still itching to go on a trike tour, especially when the reviews he has received are so fantastic! We do a monthly reporting with Gray to see how his start up is faring and this is important as it allows us to monitor trends, statistics, incidents, reviews etc. at this early stage so that any inconsistency can be weeded out early on and dealt with. Modern marketing is a very organic and rapidly evolving phenomenon so regular check-ins with our start ups help us to see what is working and what needs tweaking. We know Gray is really enjoying his happy business!
Modern Marketing for Start Ups
At Vermilion Pinstripes, we enjoy working with small businesses and B2B customers to help them accelerate sales and build business confidence. We have the experience and tools to support them on their learning journey and we are always ready to celebrate their success when they thrive. Speak to us, and see how easy it can be to sell without selling and make your business a happy, confident one!