We want to show love to our community by providing free support to build confidence on the road to recovery.
The catastrophic damage caused by our unprecedented extreme weather can be vividly seen across NSW's landscape and environment, where massive swathes of land have been devastated beyond recognition.
Sweeping bushfires followed by heavy rainfall and flooding have caused widespread destruction to both the environment and communities.
And if that wasn't enough, the threat of coronavirus infections poses potentially serious problems across our tourism industry and businesses infrastructures as a whole.
Bushfires impact
SBS reports that lead researcher Professor, Nicholas Biddle from The Australian National University survey estimated more than 75 per cent of Australians were affected either directly or indirectly by the fires. This included the estimated 14 per cent of Australians directly impacted by lost, damaged or threatened property, or who were advised to evacuate. Those not directly impacted included people who were exposed to smoke, forced to change travel plans or felt worried by the fires. Funds raised were not forthcoming and sentiments towards Australia's political system were dampened.
Our local businesses and their communities face struggles to rebuild themselves in the face of these overwhelming and seemingly insurmountable odds.
Road to recovery
The vital local tapestries of small businesses – so essential to the wellbeing of people and communities – urgently need to be repaired as a key step in restoring commercial wellbeing and business confidence.
But most importantly, small businesses need to regain their spirit of happiness to put a spring in their steps on the road to recovery.
So, what can be done to make our small businesses happy again, despite facing all the adversities caused by extreme weather?
Changing circumstances
First off, we have to realise – albeit however reluctantly - that extreme weather conditions look to be here to stay, and plan accordingly for them. The reality is that our weather across widespread locations is likely to alternate between drought and flood in the coming years.
This may be a sad fact, but a happier fact is that Australians have always shown the optimism and resourcefulness needed to adapt to changing conditions and adversity.
So, although new and challenging weather patterns may loom ahead, let's celebrate our positivity to address adversities and strive to confront these changing circumstances.
Reasons to be Cheerful
In my roles as Business & Marketing Strategist of specialist marketing and communications agency Vermillion Pinstripes – and also as Vice President of Port Macquarie's Micro Business Forum (MBF) - I've witnessed first-hand the predicaments of small businesses affected by bushfires and floods.
I've heard their desperate appeals for assistance to get back on their feet, so that they can help rebuild and sustain their local communities.
It's for these reasons that I'm asking fellow businesses to rally round and support their colleagues in this time of crisis.
Let's show some love.
Because despite all the difficulties, our regional NSW towns are open for business and ready to welcome visitors.
Beautiful tourist destinations like Port Macquarie and Wauchope with their wonderful beaches and bushlands await to be discovered and now – more than ever - tourists should continue to visit. You could trike around Port Macquarie with Beach to Bush Trike Tours or uncover Port Macquarie's history with a walking tour conducted by Mitch McKay.
Check out our blog on regional tourism on the road to recovery.
Small business owners and their staff form the backbone of these communities, and face losing the vital holiday trade that keeps them going for the rest of the year.
Vermillion Pinstripes is backing the initiative - Backing The Bush - by the NSW Business Chamber to encourage clients and friends with businesses in cities to commit to take one meeting that would normally be held in the city to an affected regional area. Whether it's a board meeting, planning session or a staff conference, visiting during the quieter period from now through to November will provide a much-needed cash boost, keep staff employed and give local businesses the confidence they need to stay open and hold on until things get back to normal.
We'll be delighted to provide any assistance to organise or promote your event or meeting in our regional towns.
Spreading Love and Happiness
It's a fact that change happens all the time, whether it be in weather, technology or market forces. What's important is how businesses adapt themselves to address these changes and profit from them.
The stark change in weather - with all of its related effects - is the obvious challenge facing our regional small businesses at the moment. They're bruised, battered and understandably downhearted.
So, to return to my main theme, what can make them happy again?
I believe the overriding positive to emerge from our extreme weather crisis is recognition by businesses of the need to anticipate change, monitor this change and then swiftly adapt and innovate to take advantage.
This is the time to learn new knowledge, new skills, form new partnerships and develop new offerings.

For example, Port Macquarie Helicopter Services recently partnered with Whalebone Restaurant to create a $250 romantic "Fly Me to Dinner" package; and My Blue Tea joined Vasnas Designs to provide blue pea flower powder for a unique new range of blue beaded jewellery.
Innovative, creative thinking like this, alongside planning for the long-term, are key to rejuvenating business confidence and spreading much-needed happiness.
Vasnas Designs displaying her artwork at the Glasshouse Port Macquarie
Let me give you some Love ... Free Marketing Consulting Services
Vermillion Pinstripes is joining the effort to rebuild the confidence of small businesses by offering free marketing consulting services to help them on their roads to recovery.
Our free marketing consultations cover such areas as all aspects of branding, websites, Facebook, eMail campaigns, SEO, Google searches and Sales & Marketing automation.
We're dedicated to working together to transform our battered businesses into Aussie phoenixes rising from the ashes – and to put the smiles back on everyone's faces.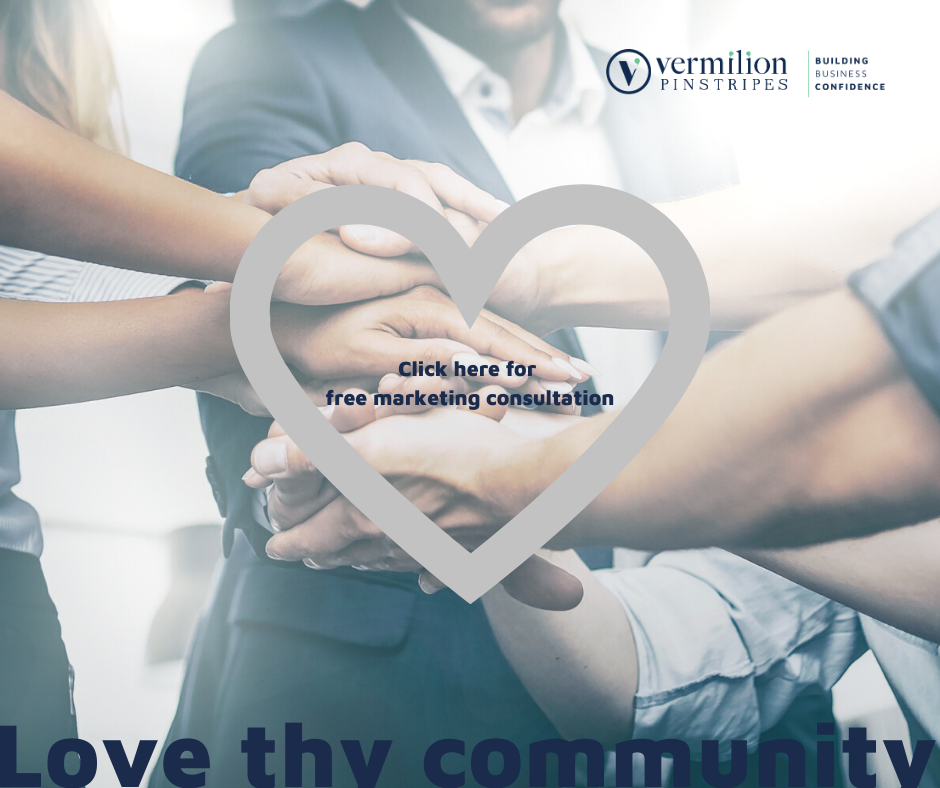 Lots and lots of love,
Veronica Lind

Business & Marketing Strategist
Vermillion Pinstripes
www.vermillionpinstripes.com