25th January 2020 heralds the fresh start of a new cycle in the Chinese zodiac - this is when we roll out the red carpet to welcome the Year of the Metal Rat (金鼠年). As the Rat is the first animal in the sequence of the Chinese zodiac, 2020 will be a year of fresh starts and new beginnings, a most befitting year especially for startups and young businesses!

Lunar New Year is celebrated in major parts of Asia and the world including Korea, Vietnam, Thailand, Malaysia, Singapore, etc.

The Rat may not have the prettiest of fame in the West but in the Chinese zodiac, the misunderstood rodent is seen as a sign of wealth and surplus! The Rat is also seen as a highly intelligent animal, nimble and resourceful. Added to that is the element of Metal (written in Chinese 金 which is also the character for gold) representing determination. Unlike other years where the reigning zodiac animal may affect some other signs negatively, the Metal Rat Year is going to be a strong, prosperous, and lucky year for nearly all the zodiac signs. Talk about generosity and surplus! The Metal Rat Year brings three magical qualities for 2020 - determination, creativity and productivity.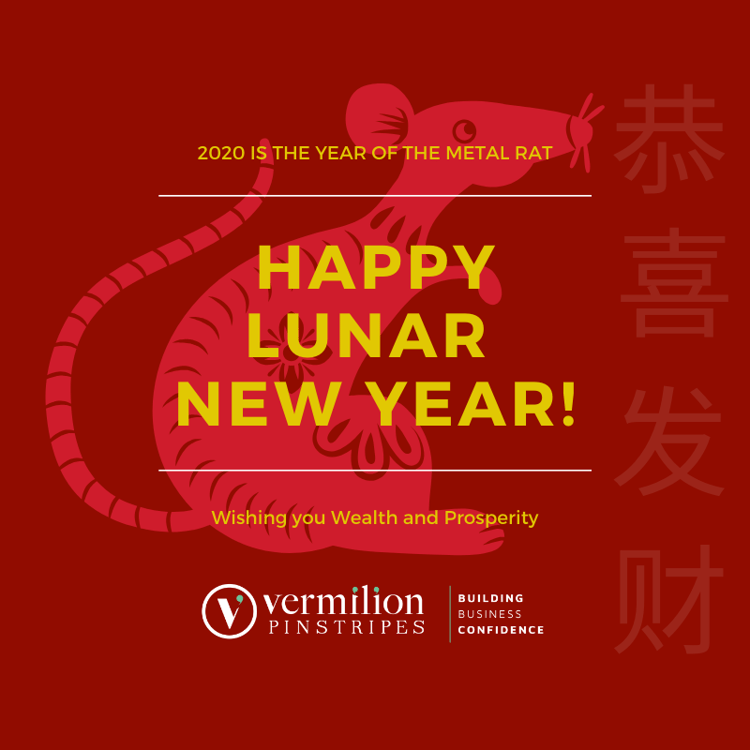 Determination
If you are a new, small business or a young B2B business, 2020 is a great year for founding and evolving. Plan well and stay focused on track!

Creativity
Creative energy in Modern Marketing can help us keep up with changing trends, demands and evolving tastes. Being creative can help businesses survive challenging periods and achieve breakthroughs.

Productivity
Set up a good foundation of new habits and actions, relook at boosting your SEO, get the CRM tools you need to help your productivity soar!

So with such a forward looking outlook for 2020, are you ready to make this your year to create new successes and drive positive changes? Vermilion Pinstripes is starting 2020 with a drive to try new approaches with businesses and help them undertake new initiatives. We love what Airbnb is doing by identifying and meeting unmet needs - they noticed that patients and their carers were not able to find flexible accommodations near the medical centres where they received treatment. They stepped in, provided the much needed service and it became a win-win situation for everyone!

To learn more about how you can take a closer look at your business and identify new changes for the year, why not join us at our upcoming workshops?

Sydney
Sell even more with Facebook (workshop followed by lunch)
25th February 2020
11am to 1pm
Upperroom Restocafe
220 Pitt St, Sydney NSW 2000
Register for Sydney marketing workshop here >
Melbourne
Thrive with Modern Marketing (Lunch-and-Learn workshop)
6th March 2020
11am to 1pm
The Deck Brighton
212 Bay Street
Brighton, VIC 3186
Register Melbourne marketing workshop here >

Winning in the Rat Race is a goal for many businesses in 2020 and at Vermilion Pinstripes we are looking forward to a new year of helping many happy, confident and thriving businesses. Vermilion Pinstripes shares the spirit of positive change with our clients and we are always ready to take on new challenges with our community of clients, partners and team members!

The happy team at Vermilion Pinstripes wishes every single business in our amazing community bountiful wealth and prosperity in the Year of the Rat 2020!


Gong Xi Fa Cai! 恭喜发财**!

Veronica and JohJu
Vermilion Pinstripes - Sales Marketing Communications


**Wishing you wealth and prosperity!