Your business has survived a global pandemic. Now, let us keep up the good work together for an even better 2023
The past couple of years have been gruelling but we have all turned our businesses around. To share our journey going forward, let us do a recap of 2022 along with the key elements that made turned growing businesses to thriving businesses.
With fresh ideas, new business practices and robust technologies,
Vermilion Pinstripes
is proud to have helped our clients make 2022 a great year for business. Moving forward, we are brimming with energy to help clients make that leap to be better businesses - better for their customers, staff, communities, and even the environment!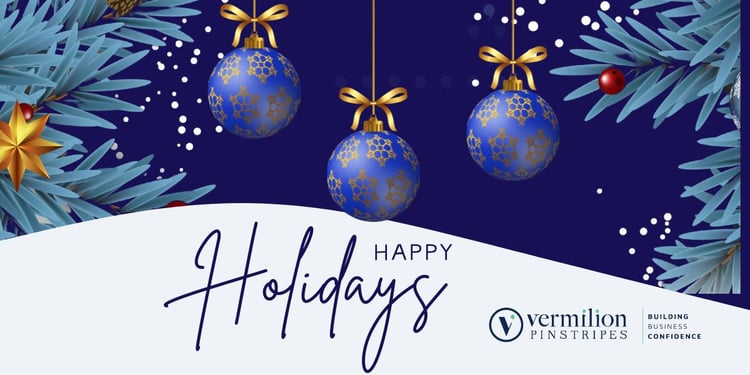 Modern Marketing
Central to our client's successes is the Vermilion Pinstripes
Modern Marketing Framework™
. It helps our clients
design their own integrated strategies, campaigns and tactics aimed at activating brands and achieving sales results.
Sales, Marketing and Communications come together to apply technology, mathematics, science, creativity and psychology into an ecosystem that empowers a brand's customers to move onto their next stage of lifecycle faster than they would on their own.
What this means is that Modern Marketing Framework empowers our clients to bring communities to their business and sell without selling. This has kept businesses going and growing steadfastly and it's our anchor to help new businesses secure their presence locally and internationally, and current businesses have profited from a revamp of their brand image and voice, bringing in better and more consistent sales.
Amazing achievements
The success of our clients matter to us, and our long time relationships over the years means we know of their struggles and difficulties. So when they score, we are just ready to celebrate! Our client, Accomplished Tree Management was awarded Top Three Best Tree Service Provider by ThreeBestRated in Port Macquarie. Congratulations!
TG's Child Care is certainly finishing 2022 with a bang looking at their series of awards! Their State Manager for NSW, Meg Barnden-Hyde won Outstanding Business Leader in the New England North West Business Award 2022. TG's also won Highly Commended for Excellence in Professional Services in the 2022 Wauchope and Hinterland Business Awards. TG's Armidale was awarded the KindiCare Excellence Awards 2022 for their excellence in Early Childhood Education and Care. Keep on Playing it Forward, TG's!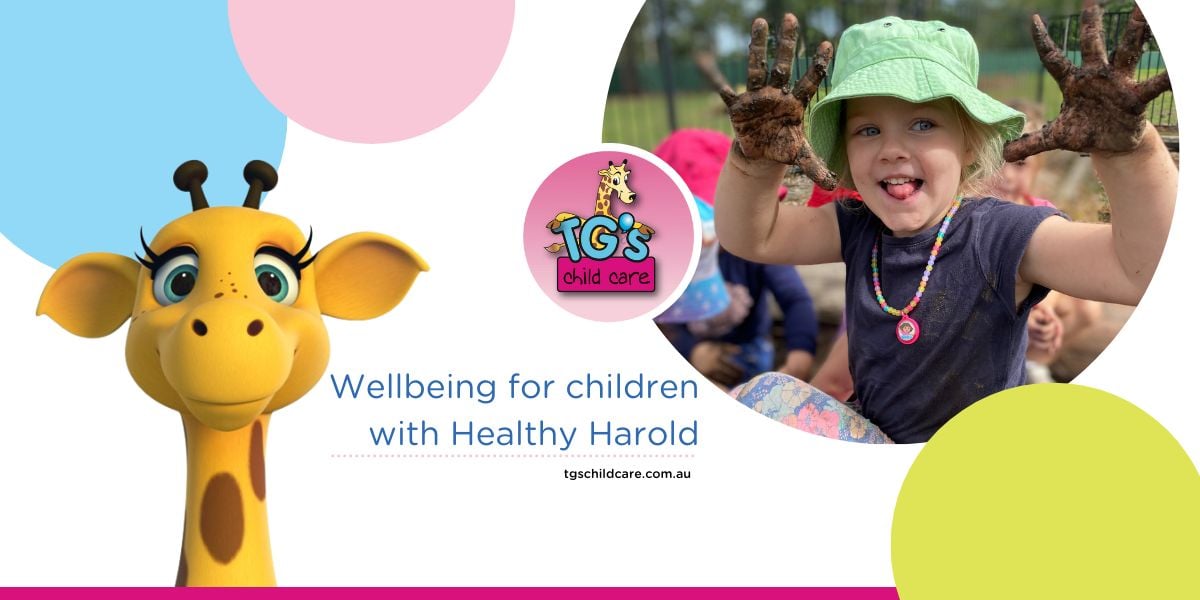 An exciting part of our job is supporting our clients as they launch a new service, product and grow towards another stage in their business. We see their hard work behind the scenes, and we couldn't be more excited when something new is launched.
AC Healthy Solutions has just made buying even easier with their new online store. We revamped their website to make it exciting, inviting and engaging. Whoever said healthy foods are boring? We wanted to get clients as passionate as Alison Carroll, the Turmeric Lady about their health! Check out their website and boost your health for 2023!
And if that's not enough for a health boost, on the other side of the planet, our client My Body My Pilates in Japan launched their Pilates Instructor Training Course in 2022! We were with them from the very beginning when their founder, Helen Zhang, went to California to be trained to getting the course out and rolling. They are helping to make Pilates a natural way of life for a long time to come by providing quality training courses.

Desley Polmear Creative continues to share her joy for writing with many others and she not only continues to publish her own writing, she has also been helping budding writers to launch their creative work. Check out their exciting project here.
Panoptic Vision at Lake Cathie is taking their business even further with the opening of their new branch in Bellingen NSW. Talk about expanding their vision, literally! It is a healthy housekeeping habit in Modern Marketing to refurbish your website from time to time. We gave Panoptic Vision a new fresh look as they continue to provide quality eyecare services to the communities.
Even as
PM Link
is working hard to shape Singapore's ever-changing skyline, they have also been building their new modern workplace. We are thrilled to have the opportunity to go behind the scenes with their project manager on the work that went into creating a modern yet inclusive workplace that supports staff wellbeing and encourages effective collaboration. Take a peek
here
.
For our client
Avery Dennison
, we are proud to support the official announcement of the company´s
new distribution centre in Melbourne
. With a focus on sustainability, this new centre stands out with its features ranging from solar systems to rainwater collection systems for irrigation.
Infineon
has been busy with their collaborations with Asian startups LG Superstart of South Korea and VinFast of Vietnam. It was an honour to support their PR engagement during their annual technology forum, OktoberTech Asia Pacific. Learn more
here
.
Taiton Resources Limited
(ASX:T88) launched their
IPO
in October 2022. Vermilion Pinstripes did our magic in getting the news out across the channels and platforms. An IPO is a big step for a company and we wanted people to know and get curious about their exciting projects in South and Western Australia.
Read what IPO is all about
.
Sharing the passion
Variety in our communities
Throughout 2022, we delivered on our promises for a great variety of businesses.
You've Got Mail! The B2B business for brands like SingPost could benefit from clear and effective branding. Both these projects were done in collaboration with
Zheng Fang Ting of Reverie Design Partners.
The
Australian Malaysia Singaporean Association
(AMSA) celebrated 185 years of migration history this year with a huge event with the Australian National Maritime Museum unveiling their National Monument to Migration. We handled this campaign including the event as well as their AMSA Annual Dinner, from sharing their
story
to preparing and designing their prospectus, invites and all other materials.
Photo below: The AMSA committee together with Sam Lim (MP) representing the Minister for Foreign Affairs and Minister for Immigration, Citizenship and Multicultural Affairs, Australia.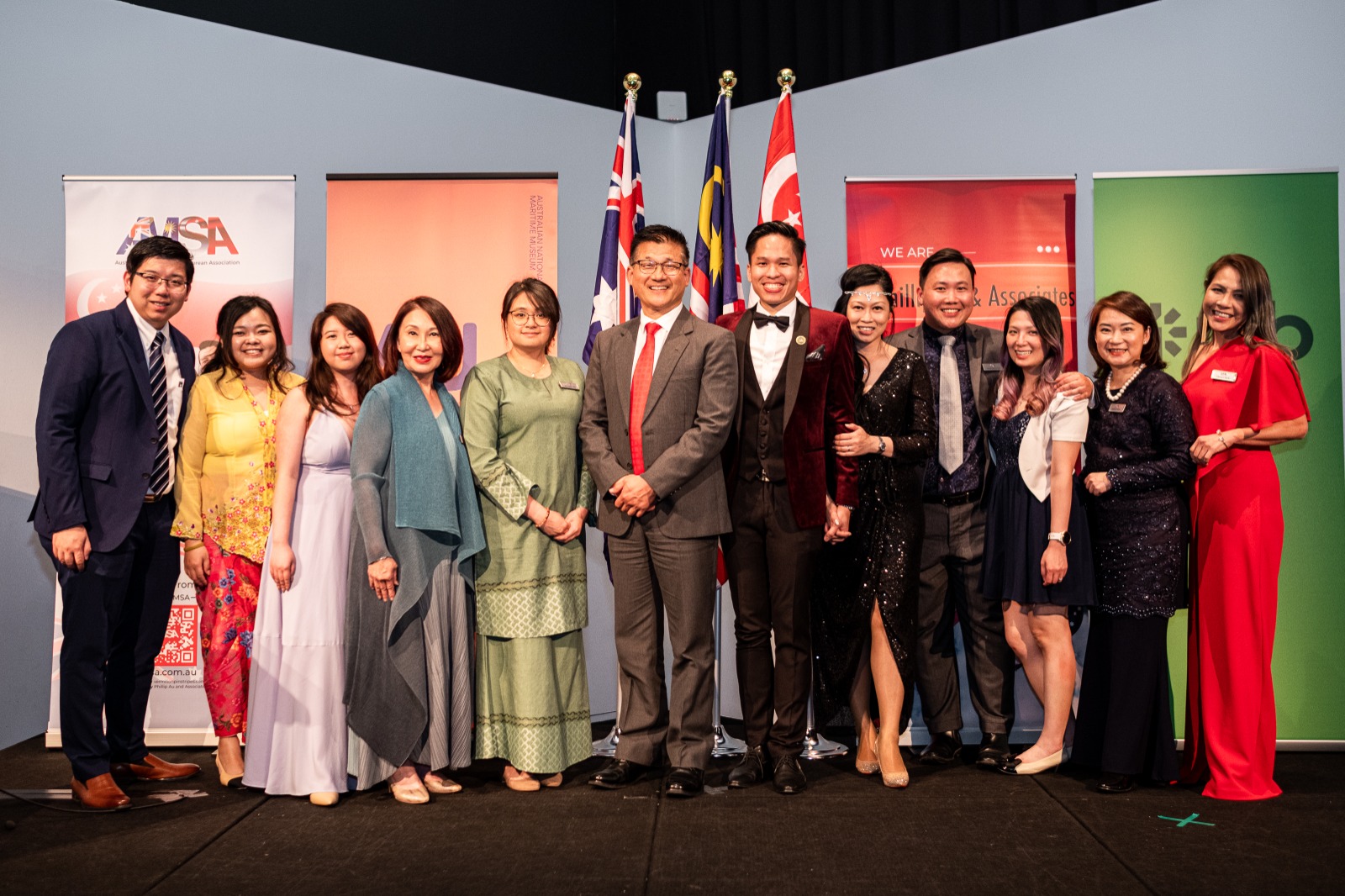 We also never pass up the chance to get involved directly with our communities. Especially when there's a celebration like the Lasiandra Festival. Vermilion Pinstripes built a
website
specially for this festival to boost outreach and engagement. We wanted as many people as possible to not only know about the festival but to get excited and want to participate! Together with Brilliant-Online, another sponsor of the
2022 Lasiandra Festival
, we made this 38th annual event a success bringing everyone in the community together to celebrate!
Proof of the Pudding
Below: Paul and Anthony Fenech, Father and Son Elvis Impersonators. Photo credit- Glenn Nicholls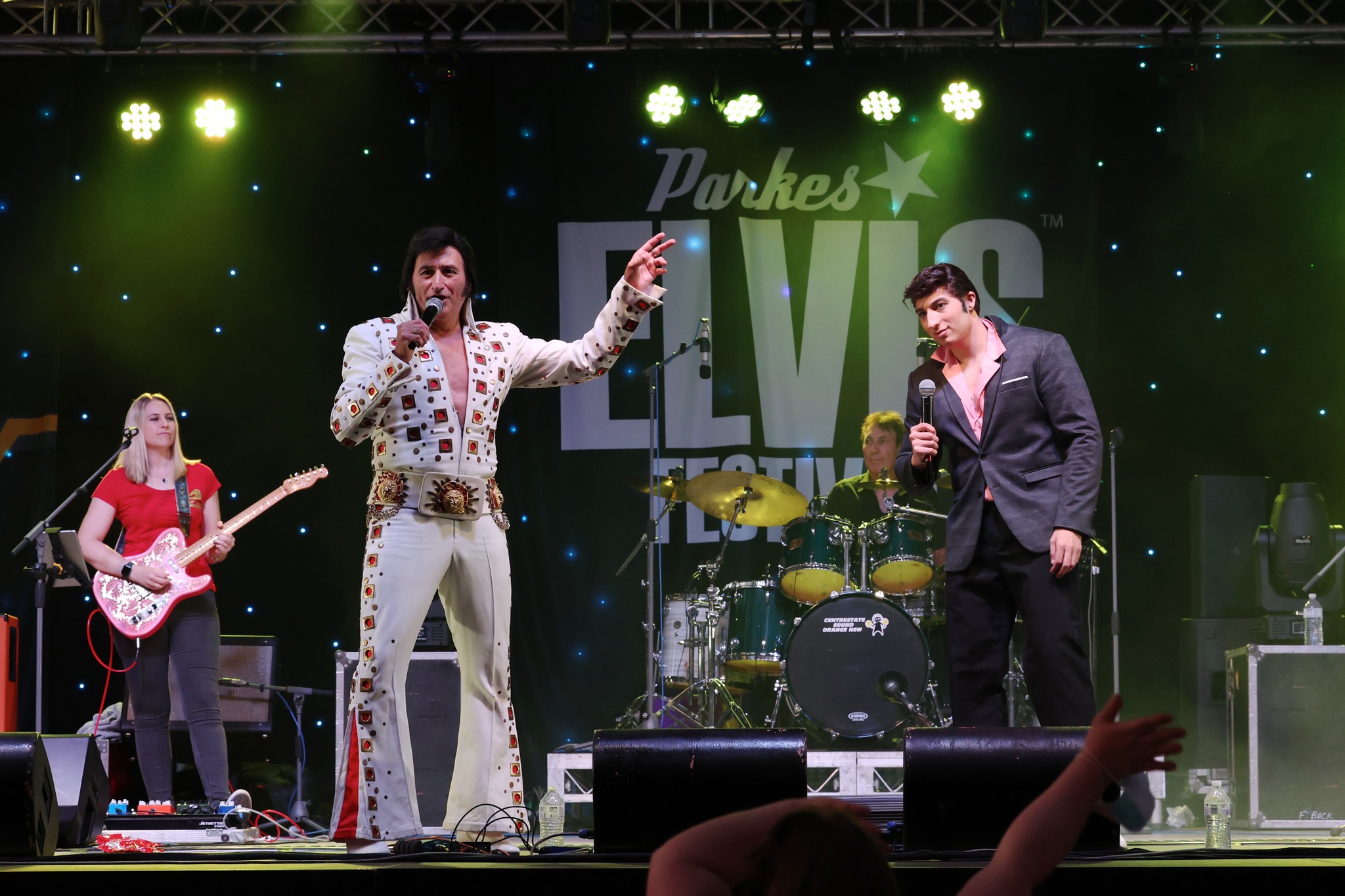 New businesses on this journey with us
We are working with a platform that matches tutors and students for the exciting fields of science, technology, engineering, and mathematics (STEM). Based on the thinking that your website is now your calling card and that your social channels offer you to engage regularly with your customers, drawing them closer into your world, we are preparing this new client to share their passion for STEM across Australia.
Another new client is a trusted investment wrapper. We are working hard behind the scenes to accelerate its branding efforts and chart its growth and development to targeted audiences. We are also thrilled to be working with a new client who provides IT training personalised to the specific needs of businesses or individuals.
We continue to work on ongoing projects for our clients in the areas of food safety, pharmaceutical research, life sciences, lithium battery solutions, etc.
How can your modern business thrive?
With our Modern Marketing Framework, you can thrive with your customers. Just click on the book now button below for a no-obligation consultation. Our team of creative, business, and technology professionals are here to support you as your business grows and thrives.
Learn about our sales, marketing and communications services.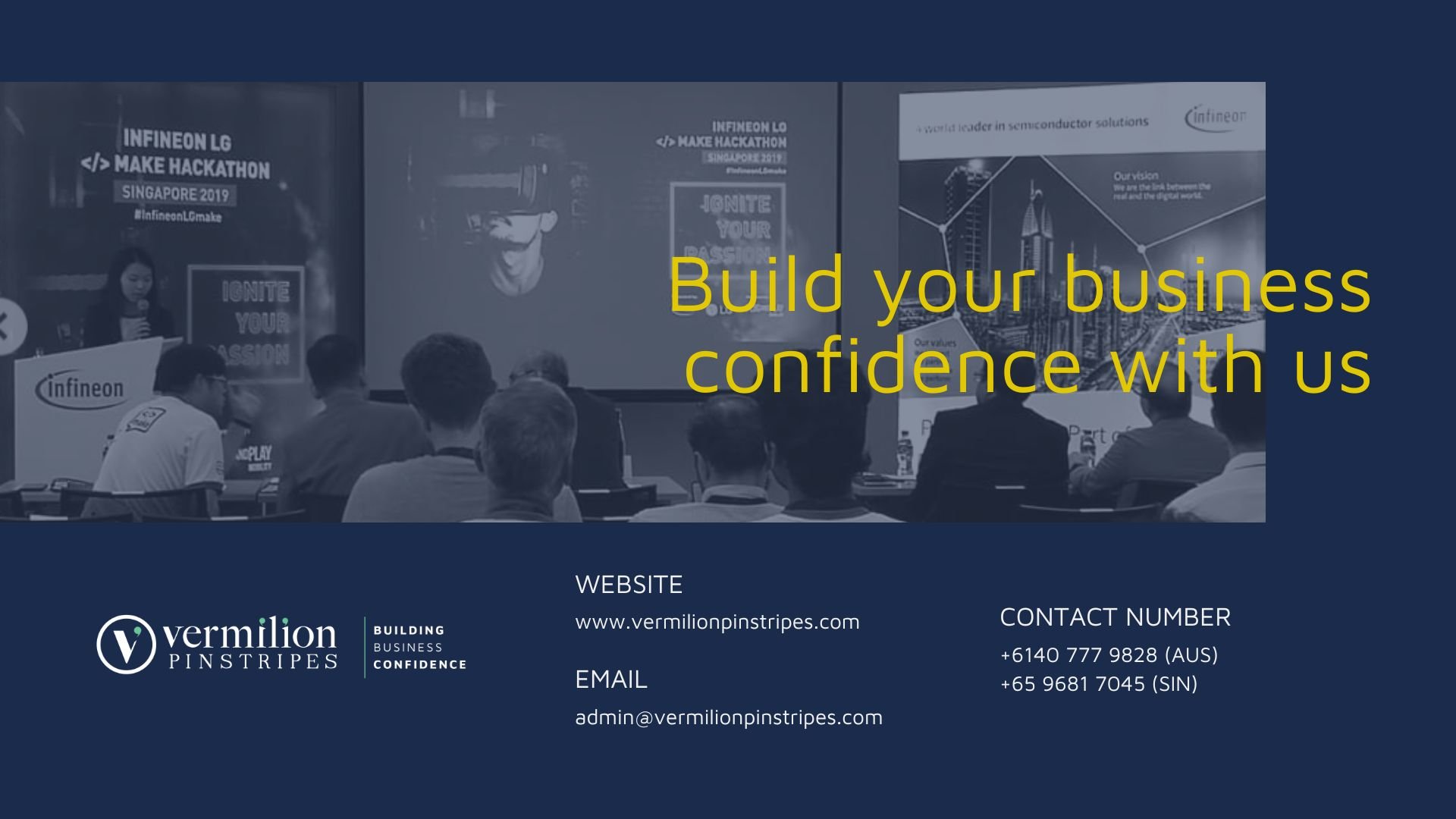 About Vermilion Pinstripes
Vermilion Pinstripes is a modern sales marketing and communications agency driven by a singular mission:
To help businesses thrive with confidence.
We harness the power of our collective expertise in business, communications, marketing and technology to help brands achieve their goals. This is through our Modern Marketing framework which guides teams to orchestrate the customer's journey as one voice, one brand.

We are operating in The Experience Economy today. Workshops are part of our integrated plan to empower experienced B2B business, marketing and communications professionals on their journeys of growth for their brands.

Sales office: AUSTRALIA - Sydney, Port Macquarie, Melbourne and SINGAPORE