Does absence make the heart grow fonder?
In business, that's an absolute NO.
Without Modern Marketing, you will be Out of Sight and Out of Mind.
Here are three things that can help small businesses become and stay visible.
Small businesses face the challenge of being seen. So size matters sometimes, but in Modern Marketing, the cyberworld offers you infinite opportunities to expand and reach out. So there's hope. You are not entirely limited by your size. Let's talk about what small businesses need to be visible often enough in order for clients to sit up and notice them, and then to remember and even desire them.
Small businesses need to be seen (often) in order to be adequately heard by the number of customers you want for your business. Getting a business up and running and to be visible is hard work.
A single business network meeting, one social post or one little ad alone is far from enough. While we do not suggest you inundate customers with endless posts or newsletters, (remember, familiarity breeds contempt), you do have to be regular and consistent in engaging with them.
Unless you have the exceptional gift of photographic memory, most humans need to see something at least seven times before the idea can be registered and for the person to remember it. Some of you may be a small business just starting up or you could be a business that wants to keep going and thrive, and you may even be looking to revamp your business. Whatever your situation, you need to get creative and understand the psychology of humans to not only stay in their consciousness but to always be fresh on their minds. And if you want to give yourself a challenge in modern marketing, go one step further when you have achieved all this and think about how to make your clients not just remember you but also desire you.
Without Modern Marketing, you will be Out of Sight and Out of Mind.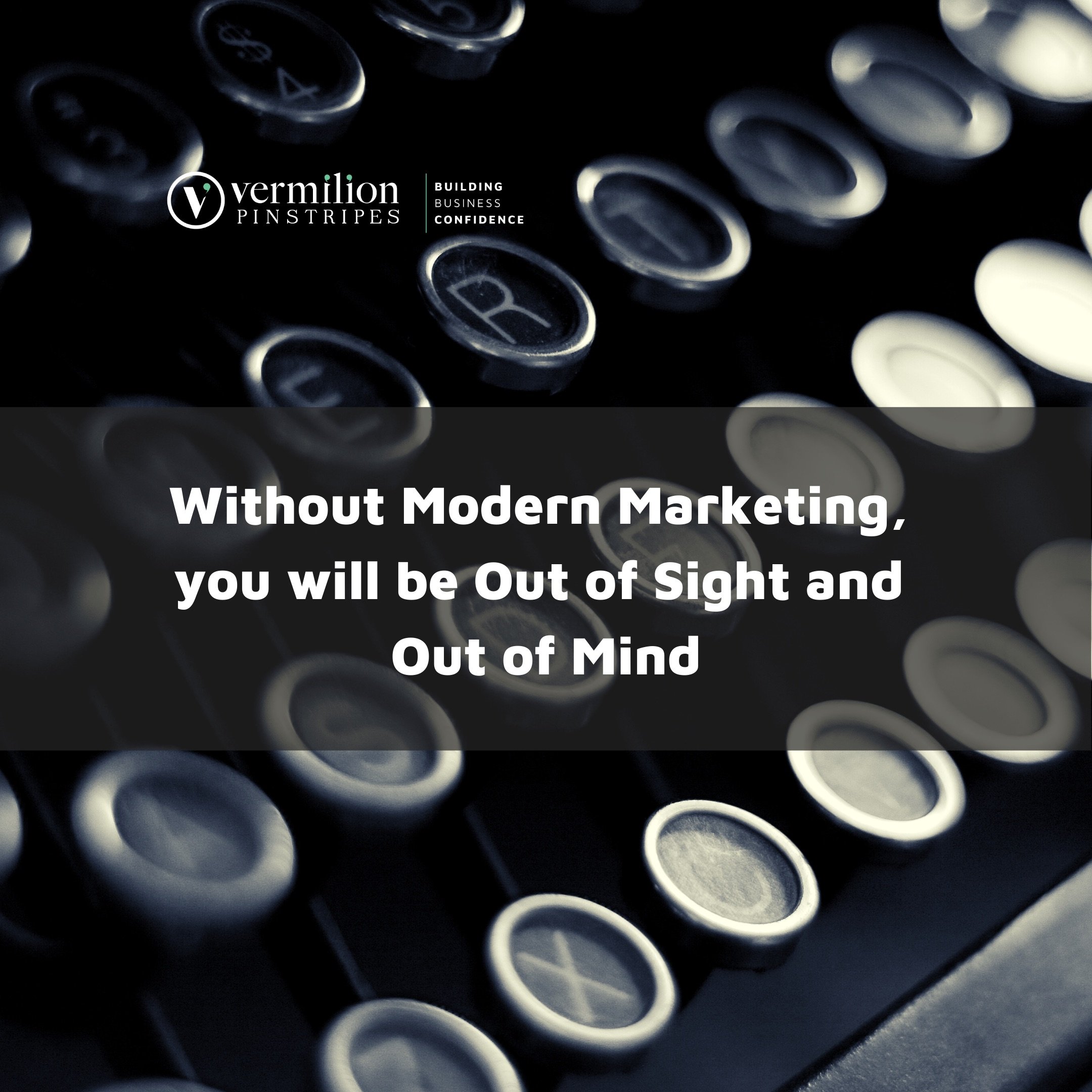 Modern Marketing is what helps you be visible in the cyberworld. It's not about mindlessly posting on social media. Let's face it. Most of us are not squealing with delight to see 1000 photos of somebody's honeymoon on Facebook. It's great for the person posting it, but as a viewer, I'm not getting new knowledge nor pleasure or entertainment out of it. So how do you avoid boring or annoying your customers?
It's about creating a Complete, Connected and Coherent series of events that remind your customers about your brand, offer and product or service.
Remember, our customers are humans and the better we know what makes them excited or what puts them off, the smoother and the shorter (and the more interesting) we can make their buying journeys and the easier buying becomes for them.
The all-rounded aspect of modern marketing is what makes my work full of challenges and changes. I can come up with many different solutions for businesses because I have all the ingredients I can use - maths, science, art and psychology with a dollop of creativity and topped off with the Human Touch. I have also learnt through changing times that agility, responsiveness and creativity are key to moving through Glocal society where businesses can engage face-to-face and/or online.
In the first part of our Out of Sight, Out of Mind blog, we want to look at three things that can help small businesses become and stay visible.
Let's go Techno
There's no doubt businesses are now very dependent on technology. Just think about the number of screens and devices there are in any typical household. Most of us sleep next to our mobile phones which are not even switched off at night. So there is a huge (cyber)space for businesses to enhance their visibility. Your business needs to be online more and find ways to make yourself be seen and stand out. Small businesses that are old-school and resistant to changes are at a disadvantage having only a brick and mortar establishment. I appreciate my neighbourhood tea shop down the block where I can enjoy a chummy face-to-face contact with the shopkeeper but I see they have also changed with the times and have gotten themselves an Instagram account and a Facebook account! That actually makes me feel even closer to them - they're right in my phone all the time! I will never run out of my favourite tea. I can place an order immediately online and pick it up when I next pass by the shop. And the gorgeous photos they put up of their teas and the easy suggestions to make a winter tea for my cold are ways I feel connected with this little tea shop.
I'm pretty sure as technology advances, one day we'll get to do a scratch-and-sniff Instagram post where you can smell the different teas from your phone!
Online isn't the death of a physical presence. Both are complementary and it pays to be curious and open to trying new ideas.
The advantage of having an online presence means you have the entire world as your oyster and your customers can literally come from any corner of the planet that has Wi-Fi. Online also means you have a myriad of channels and mediums to use, anything from Instagram stories, webinars to regular newsletters. It is a very rich offering marketers have to work with and finding the right combination that suits your business can be key to helping your business thrive.
Make it Relevant
To make your technological wizardry really work, small businesses have to remember to follow the CAT.
Serve the right Content, to the right Audience at the right Time.

The reason why I am not over the moon looking at my friend's 1000 honeymoon photos on Facebook is because it is hardly relevant to me. She is not my closest friend and while I love travelling I am not doing my trips with the mindset of a newly-wed. So as a small business, you need to be clear who your target customers are and what they need so that what you are selling is relevant to precisely a particular group of people that address what they need at that particular point in their lives. That is how you can stay in the minds of your customers.
Once you have identified your target customers, (and you can use our Customer Avatar worksheet here to help you do that) you will know better their pain points, frustrations, aspirations. Really listen to your customers to identify their needs. Selling is not about shoving your products and services into people's faces just because you think you are the best. Modern Marketing puts the focus on the customer, not the business. When you hear what your customers need, you can then tailor your content to address that. This is where you begin to deliver your right Content to your right Audience that is just right for your business, and at the right Time.
It is also worth mentioning about Time, that things never stay still in Modern Marketing. Your customers' needs change, their preferences change (sometimes just because) and you have to be quick to adapt your products and services to that. At one particular point in time your products may serve your customers well but things can change suddenly and you will need to adapt to the new needs they have. Just take a look at how many businesses have tweaked their offerings because of COVID.
The positive side of changing with your customers is they will feel like they are growing together with your brand, that it is a shared journey you have together. It is a way to foster customer loyalty - a challenge for many businesses big or small, because there is so much competition and offerings in the market.
Remember, be a chameleon. Chameleons do not change colours on a whim because they are vain. It is an intelligent move to survive and ultimately thrive. As a small business, you are the same. You have your core identity just as the chameleon never doubts for a moment it is a reptile, and like the chameleon, you need quick reflexes to adapt with your environment.

Be a Guru in your industry
Being seen as a guru in your industry or helping people make an impact are ways to make sure your brand is well-tattooed in the hearts of your customers, and this can be done easily online. Remember, it is human nature for people to want to connect with those they share some common interest or those they admire. I say I use psychology in my modern marketing strategies - what I really mean is I never forget that I am ultimately selling to Humans. And there are some basic human needs and desires that are not rocket science.
Being a guru is not about saying something smart or intelligent. It is about having the confidence and generosity to share your business and industry knowledge. That's what we have been doing at Vermilion Pinstripes by offering free marketing tools and resources.
An industry guru is known for high quality conversations with their customers. This naturally leads to respect and makes people notice you, sit up and listen and most importantly, look forward to hearing more from you. While you can hold your face-to-face conferences etc. they can be costly to organise and requires a lot of planning. Now with online platforms, industry gurus can reach out even more easily to people.
One way I do this is by hosting webinars. It allows me to reach out to customers, connect with fellow marketers and collaborate with many talented people. Whether it is having a session on How to Pitch to the Media or talking about visual communications and wonder if Sex Sells or Does It, webinars are a very dynamic, immediate way to build brand awareness and beef up your credibility. Even before the webinar itself, just by promoting it across your social media channels and Facebook ads, you are already driving traffic to your business. A webinar is an event where everyone who collaborates and attends gets something out of it - coming up with a new idea, sharing experiences, refreshing knowledge and the feeling of connectedness of engaging people together in one virtual space at a specific point in time. During COVID-19 and beyond, webinars have allowed people to 'get together' albeit in a virtual space and at a time when human connectedness is even more desired when the world feels like it has shut down. As the guru in your industry, you are helping your customers and related businesses improve, change and make an impact on their communities. You can incorporate add-ons and benefits with your webinars by sharing free resources, building Facebook groups for support, networking and discussions. Something that you do or give away 'free' now is well worth the time because it secures customer attention, participation and support. And it makes you absolutely visible.
At the end of the day, you can be the best in your business but if you are flying low under the radar, nobody is going to know about you, much less remember you. If people don't see you (or your content), you don't exist and you don't have a business. Modern day marketing is not about mindless narcissism shoving yourself in your customers' faces. Understand what your customers want or need, give them the relevant, interesting, fresh and creative content that is visible and accessible, engage with them consistently and you as a business can totally enjoy designing this buying journey for your customers.
Sharpen your visibility. Be memorable and desirable. And then for your customers, you will always be on their minds.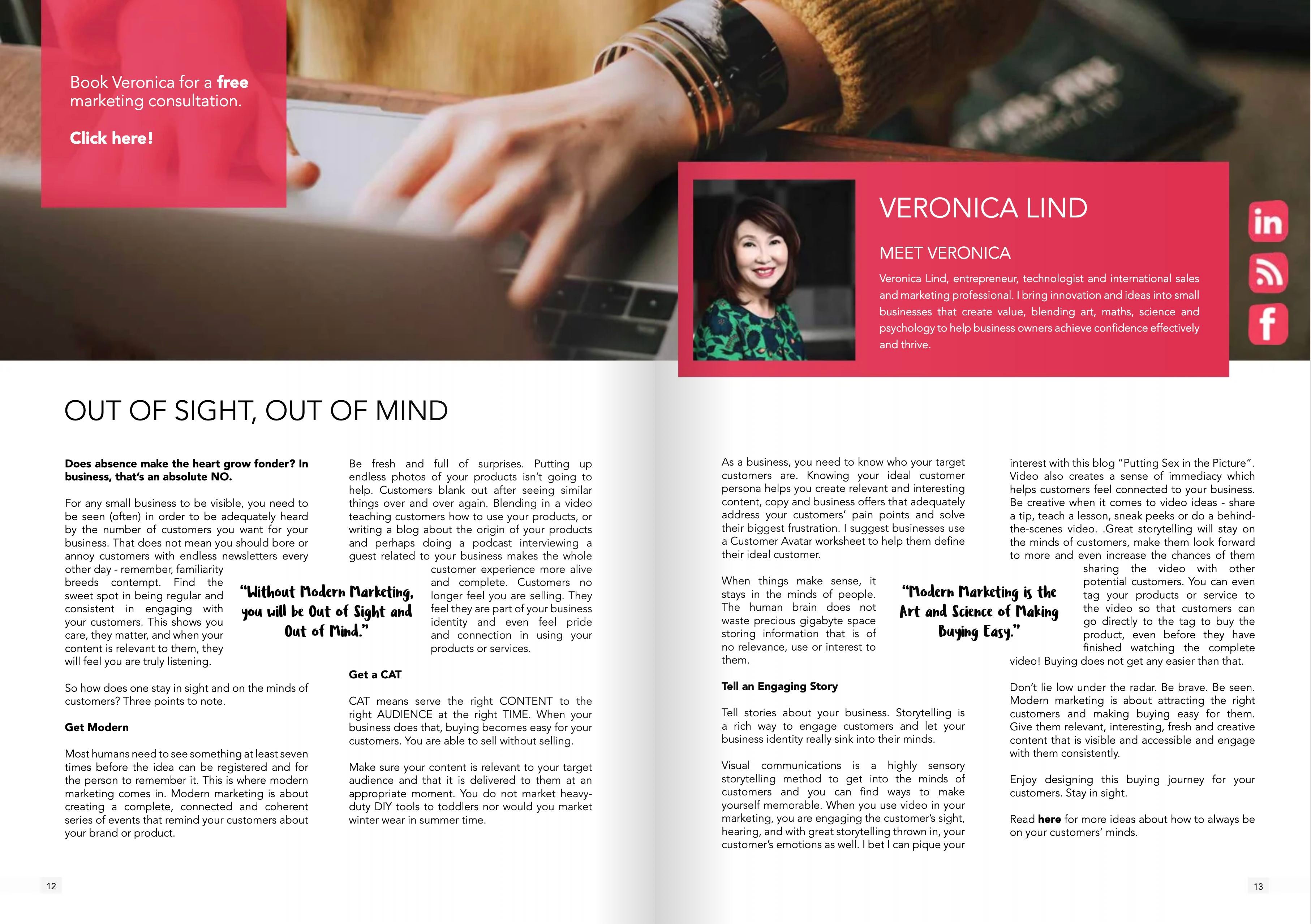 ---
About the Author
Veronica Lind is the Business and Marketing Strategist of Vermilion Pinstripes - Sales Marketing and Communications. She is the creator of the Modern Marketing Framework that enables local, regional and global executives to sell without selling, build business confidence, and thrive.