The late Apple founder, Steve Jobs, once said: "Ad campaigns are necessary for competition. But good PR educates people, that's all it is." What is 'good PR'? It's simply positive public relations which comes in the form of a positive story in newspapers, magazines, TV or radio.
Good PR will help to open new opportunities or generate new leads for business.
The start of a PR campaign involves issuing a press release to the media, then followed by pitching to the media with story ideas.
But wait.
Why would the media want any press releases or story ideas from your business? Simply because journalists and editors today are now faced with time pressures and resource constraints to post up fresh and interesting news to their readers daily, sometimes even a few times a day.
Gone are the days where media professionals have a month's lead time to pursue their stories, conduct interviews, write them out, submit the images and proofread articles before publishing.
DOWNLOAD THIS WORKBOOK to learn how to do their own PR campaigns and engage better with the media. You will appreciate this workbook - "How to Pitch your Story to the Media".
For more insights and expert tips on modern communications tactics and activities, please check out our blog at VermilionPinstripes.com.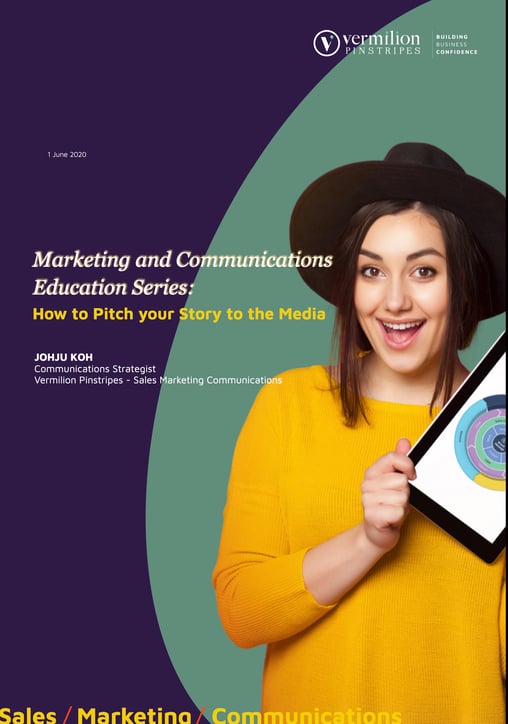 We hope you find this resource useful. Please feel free to reach out to me at johju@vermilionpinstripes.com to let our team know if it has helped or just to chat about what other resources you would welcome.
If this free resource has helped you, please pay it forward with another good deed for the community. Let's make the world a better place together!
Download this workbook: How to Pitch your Story to the Media by filling in the form.
What's next?
Book your free consultation with Vermilion Pinstripes now!
Want more?

About Vermilion Pinstripes

Vermilion Pinstripes is a modern sales marketing and communications agency driven by a singular mission:

To help businesses thrive with confidence.

We harness the power of our collective expertise in business, communications, marketing and technology to help brands achieve their goals. This is through our Modern Marketing framework which guides teams to orchestrate the customer's journey as one voice, one brand.

We are operating in The Experience Economy today. Modern Marketing empowers experienced B2B business, marketing and communications professionals on their journeys of growth for their brands.

Sales office: AUSTRALIA - Sydney, Port Macquarie, Melbourne and SINGAPORE