Our workshop Modern Marketing for the Modern Business on 16 August 2018 in Singapore attracted a good turnout of highly experienced marketing and communications professionals.

They came from businesses of all sizes, from small companies to global multinationals. Everyone was brought together by a common desire to learn, adapt and grow in the new Modern Marketing era. Our participants each made the choice to be there because they were all experienced yet hungry to learn.

Over lunch, we all had a great time learning and sharing about how technology, mathematics, science, creativity, and psychology come together to shape brand perceptions, personalise engagements and sell more.
Coming Together to Sell without Selling
The big question everyone had at the workshop really was this – how do you sell without selling?

To get to the core of this enigma, Koh Joh-Ju got the floor intrigued with a simple question at the beginning of the workshop - "Sell me a pen." Think about it. Sounds simple? It would be if you were old-school and were selling the old-fashioned way. First, you go meet your customer and understand him or her. After that, you sell it to the customer.
In our modern era, this formula is obsolete. For the simple reason we do not even get to meet the customers. How does one sell in this case?

The key to knowing how to sell without selling was gradually revealed at the workshop. It is something that can definitely be done!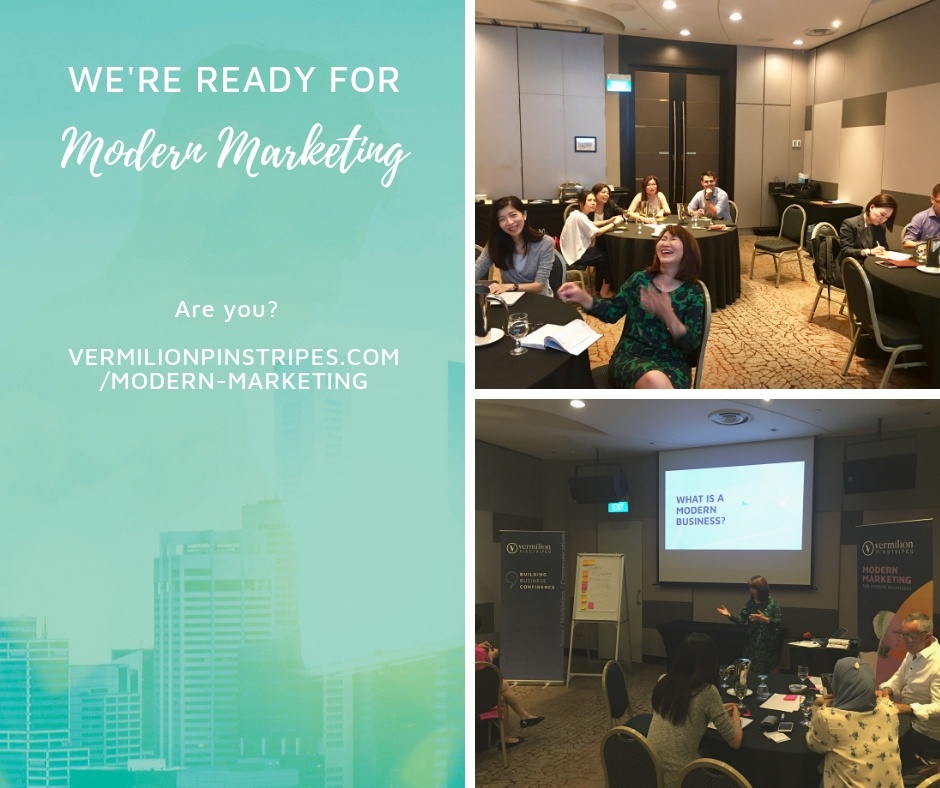 Emotional Connection with our Modern Marketing Framework
In the era of modern marketing, establishing emotional connections with customers is vital to ensuring a strong start in your business. To do this in a logical and organised way, the facilitators Joh-Ju together with Veronica Lind and Geoff Hughes introduced the Modern Marketing Framework from Vermilion Pinstripes. The three facilitators took the participants through an understanding of how this comprehensive framework functions. This is a highly useful tool everyone can use to help them on their Modern Marketing journey.

Because everyone came with a very open mindset regardless of their level of experience or the industry they are in, they were honest with their concerns and requests when asked to submit queries they had about Modern Marketing and what outcomes they wanted with the workshop.
During the Q&A session, there were many questions asked, including:
Business changes - How can my business evolve or change?
Marketing changes - Where's the best place to start with digital marketing strategy? How can I be better at marketing? How can I better develop marketing campaigns? Discussion on the full process of integrated marketing and when to end a campaign.
Engagement and Reach - How do I get more engagement with my community? How to gain new set of audiences or customers? How to sustain engagement with them? How much is too much contact with my target audiences?
Returns on Investment - How to measure the effectiveness of PR and marketing?
With these queries, Joh-Ju, Veronica and Geoff gave actual customer examples and these case studies provided a jumping board for the participants to also share their experiences and give suggestions. Through a lively bout of discussions, the facilitators came up with a detailed Modern Marketing plan together with the participants. Because this was backed-up with real life examples as well as experiences from a variety of industries and professions, the participants were able to extract what was relevant for their businesses and situations.

The participants love the content and speakers and would like an in depth understanding on CRM and marketing automation.
Building Confidence with Modern Marketing

Overall, it was a great knowledge sharing workshop with a group of highly experienced, forward-thinking professionals who were receptive and interactive.
We are heartened by the fact that participants were able to open their understanding of Modern Marketing and be confident about leading their brands on a strong customer engagement journey to sell without selling.

Thank you for your participation - James Kenneth Koh Executive Search, Ciza Concept, Flamingo Bridal, Singapore Semiconductor Industry Association, CPG Group, HubSpot and a global analytical instrument maker.
Vermilion Pinstripes is a sales marketing and communications agency driven by a singular mission: To help businesses thrive with brand confidence.
We harness the power of our collective expertise in business, communications, marketing and technology to help brands achieve their goals.
This is through our Modern Marketing framework which guides teams to orchestrate the customer's journey as one voice, one brand.
We are operating in The Experience Economy today. Workshops are part of our integrated plan to empower experienced B2B business, marketing and communications professionals on their journeys of growth for their brands. Contact us for professional marketing and communications workshops.