SINGAPORE, June 17, 2019
Infineon LG </> Make Hackathon
Vermilion Pinstripes was thrilled to be working with two global leaders, LG of South Korea and Infineon of Germany, on their first hackathon worldwide!
These titans of the industry are building a shared community of innovators who want to build a better future for all with leading edge technologies. They provided startups and student technopreneurs with LG webOS open platform and Infineon's microelectronics capabilities such as intelligence, power efficiency, security and sensing for the young innovators to create breakthrough Internet of Things (IoT) solutions.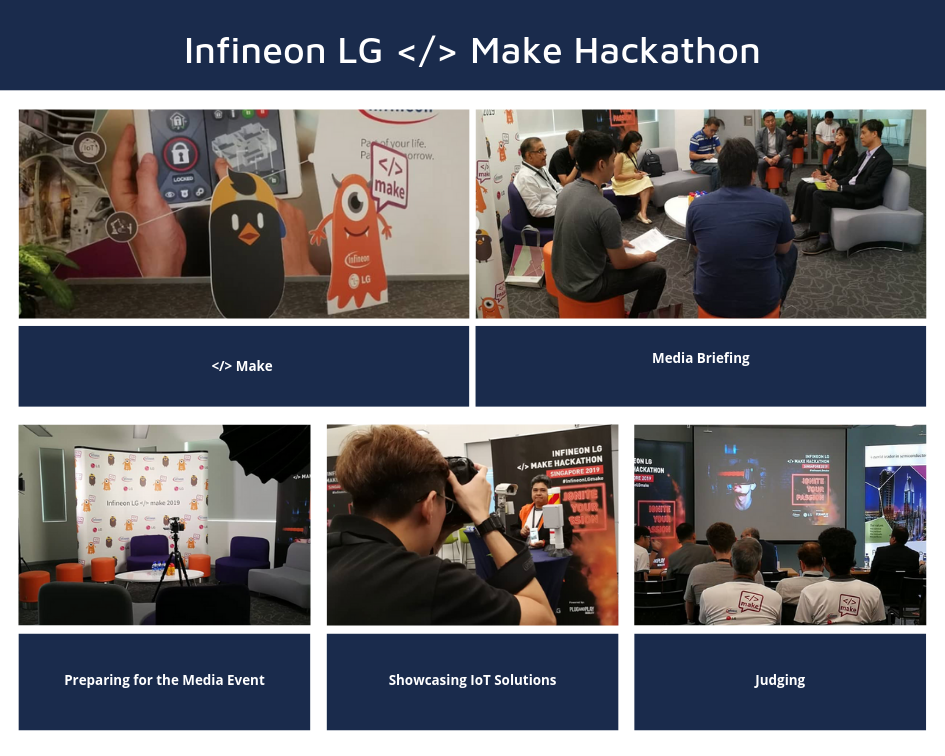 Driven by the shared goal of creating a smarter and more connected world, Infineon Technologies and LG Electronics (LG) hosted the inaugural "Infineon LG </> Make Hackathon" on breakthrough Internet of Things (IoT) solutions in Singapore. This is the first such collaboration for both companies worldwide.

The hackathon aims to empower seasoned start-ups and student entrepreneurs to create new technological solutions for IoT that will run on the LG webOS open source platform with Infineon microelectronics capabilities such as intelligence, power efficiency, security, and sensing.
Working closely together, Infineon and LG provided interested innovators with technology guidance, as well as special access to products and software to help the shortlisted teams develop and showcase proofs-of-concepts to a panel of judges at Infineon Asia Pacific office in Singapore.
The 14 shortlisted start-ups and student entrepreneurs from countries such as China, India, Malaysia, Ukraine, and Singapore, presented their proofs-of-concepts to a panel of judges at Infineon Asia Pacific office in Singapore.
"This hackathon is about a shared community of innovators driven by a common desire to use leading-edge technologies to build a better future for all. We are delighted to be a strategic partner of LG in nurturing innovation in a globally connected ecosystem. Together, we can make life easier, safer and greener in tomorrow's connected world," said Mr. Chua Chee Seong, President and Managing Director, Infineon Asia Pacific.
"Our goal is to build and grow a global webOS community where developers may lever- age a wide range of webOS functionalities such as AI, connectivity and IoT in their collaborative work to produce innovative solutions and services that together shape an even better life for all," said Dr. I.P. Park, president and CTO of LG Electronics." LG is excited to be a co-host of this event with Infineon, who has long been our valued partner in hardware, and wishes this hackathon to be the beginning of creating the future of IoT together."

GoReMas Enterprise and Wangi Lai PLT, both from Malaysia, won the top and second prize respectively for their innovative solutions. GoReMas Enterprise's prototype, Floodsensed, is an IoT flood monitoring system with social media alerts such as Facebook, Slack, Telegram (with images and location maps), and YouTube Live Stream. The equipment gathers rain volumes, water levels, temperature, and barometric pressure from device gateways and nodes, then sends the data to Floodsensed IoT platform that comes with dashboard visualisation for users.
Wangi Lai PLT's BAWA Cane is a clip-on module for existing white canes that helps the blind and visually impaired identify and avoid obstacles with shared insights and foresight through data analytics.
The winners were selected by a panel of judges from LG and Infineon based on criteria ranging from problem identification, concept development and innovation, to ease of implementation, stability and presentation. The first and second prize winners received SGD5,000 and SGD3,000 respectively.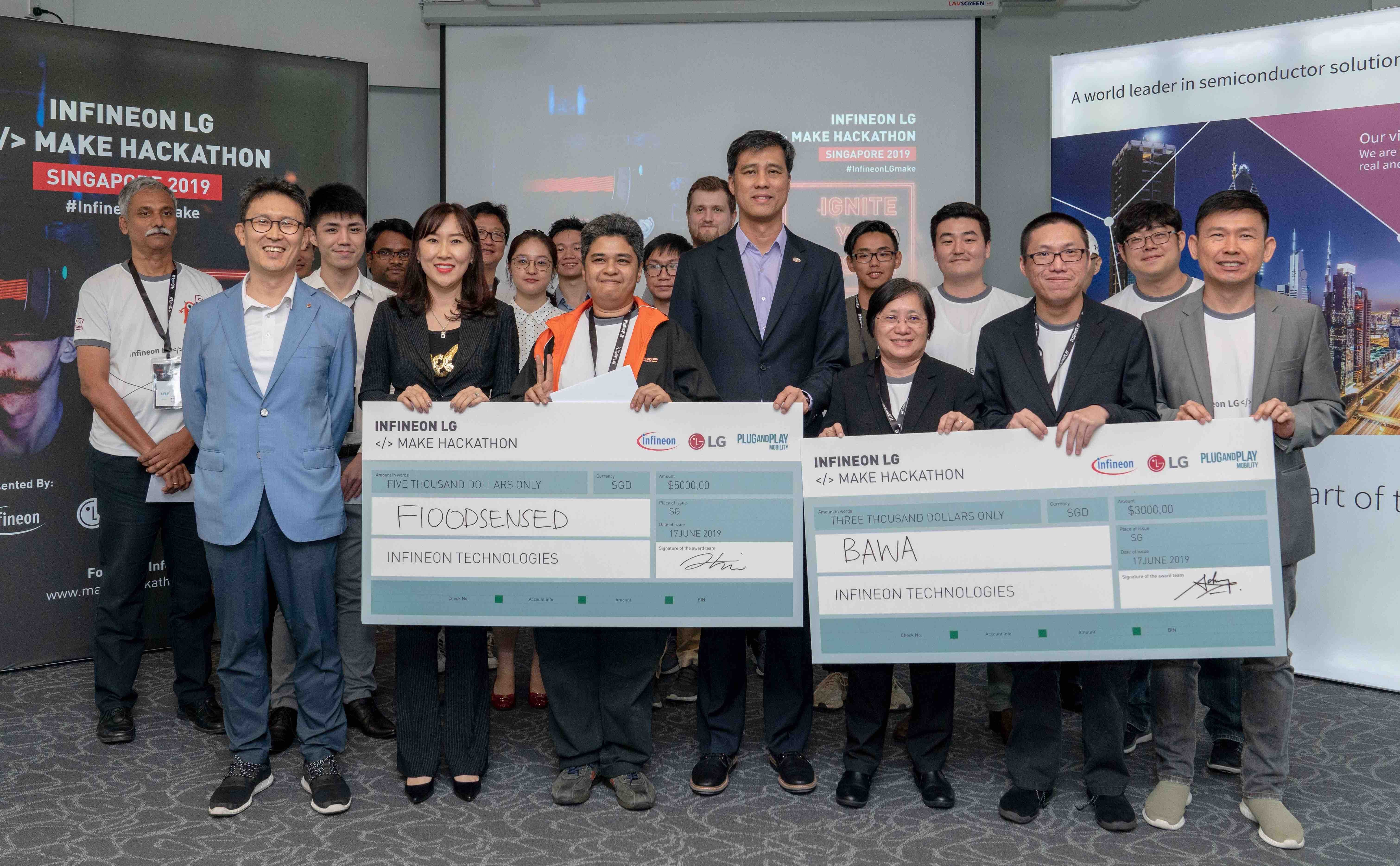 Photo: Front row from second left, Helen Choi (LG Electronics), first prize winner Marsha A Chin (GoReMas Enterprise), CS Chua (Infineon) and second from right, second prize winner Daniel Vong (Wangi Lai PLT)
About Infineon
Infineon Technologies AG is a world leader in semiconductor solutions that make life easier, safer and greener. Micro- electronics from Infineon is the key to a better future. In the 2018 fiscal year (ending 30 September), the Company reported sales of €7.6 billion with about 40,100 employees worldwide. Infineon is listed on the Frankfurt Stock Ex- change (ticker symbol: IFX) and in the USA on the over-the-counter market OTCQX International Premier (ticker symbol: IFNNY). Further information is available at www.infineon.com.
About LG Electronics Inc.
LG Electronics Inc. is a global innovator in technology and manufacturing with operations in 140 locations and a workforce of over 70,000 around the world. With 2018 global sales of USD 54.4 billion, LG is composed of five companies – Home Appliance & Air Solution, Home Entertainment, Mobile Communications, Vehicle Component Solutions and Business Solutions. LG is a world-leading producer of TVs, refrigerators, air conditioners, washing ma- chines and mobile devices, including premium LG SIGNATURE and LG ThinQ products featuring artificial intelligence. For the latest LG news, go to www.LGnewsroom.com.
About Vermilion Pinstripes
Vermilion Pinstripes is a full service integrated sales marketing and communications agency based in Australia and Singapore. We are proud to journey with growing local, regional and global businesses as they gain business confidence.

e/ info@vermilionpinstripes.com

Australia: t/ +614 0777 9828
Singapore: t/ +65 9681 7045
For Lead Generation B2B Communications, contact us.