The Marketing Evolution of Mailchimp
The Atlanta-based marketing platform was founded in 2001 and since then it has developed into more than just a simple email marketing platform. It now includes a website design capability, CRM and also marketing automation. You can do so much more now on Mailchimp, including target customers through ads on Facebook and Instagram as well as take advantage of SMART recommendation powered by Artificial Intelligence (AI) which allows users to collect insights.
Modern marketing is highly organic and never stops changing. A marketing platform also needs to evolve along with it. At Vermilion Pinstripes, we love the happy blend of the technological with the human, the creative with the mathematical and are always on the lookout for platforms and apps that help us sell without selling, and which we can employ to help businesses thrive. We are loving what Mailchimp can do for our clients.
Vermilion Pinstripes is happy to announce that we are a Mailchimp Partner. So book a Free Consult if you want to know more about Mailchimp.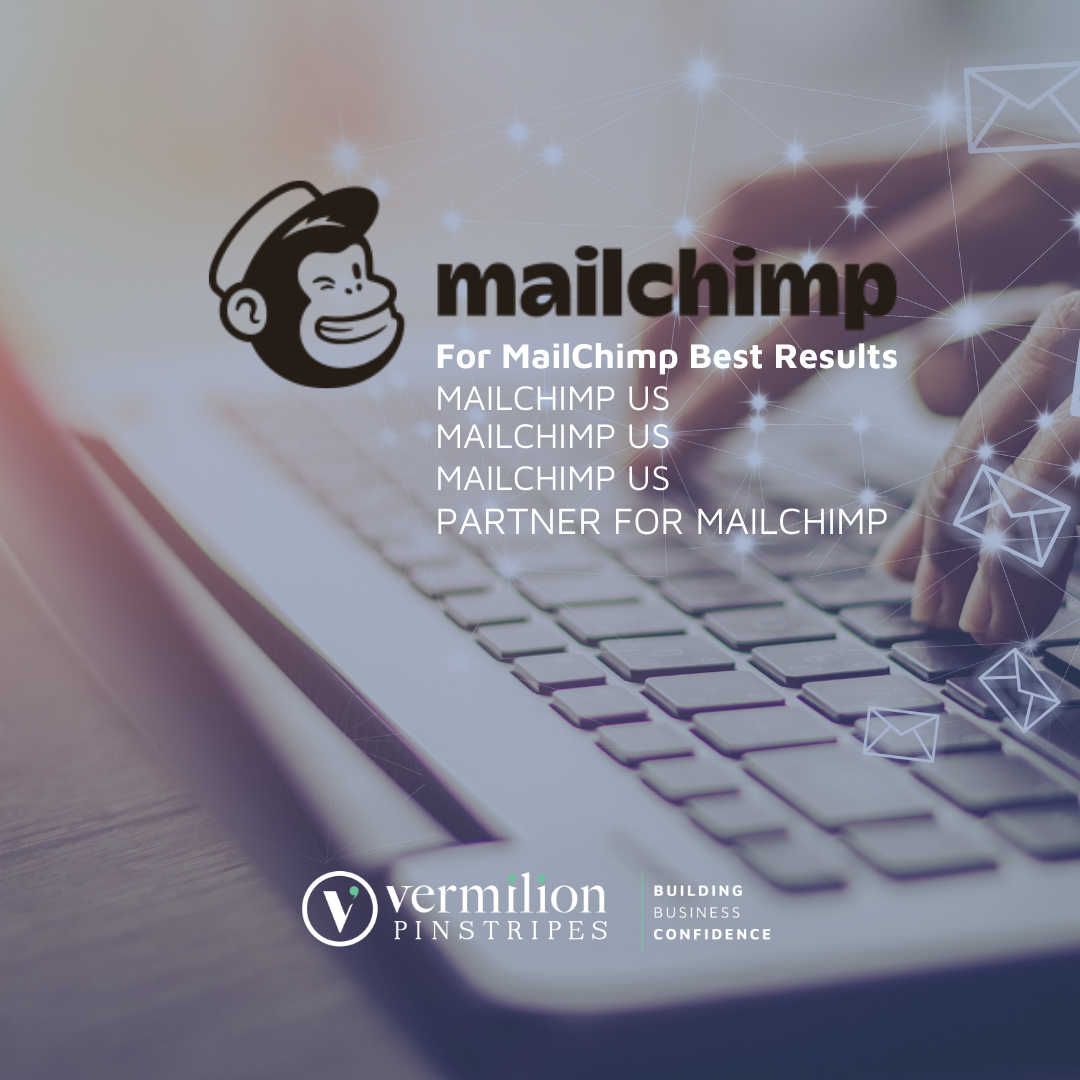 To start with, Mailchimp offers two important areas that a business needs to get going.
First, any business big or small needs a home base.
And that would be your website. It sounds scary when you are starting out to think about having to create your own website out of nothing, especially when you are not someone trained to do that. It also sounds rather expensive. Believe it or not, Mailchimp offers you as part of their package, your very own website with a custom domain and even built-in marketing tools to boot! All you need to launch your business!
Users are guided step-by-step to put together a highly-professional website. There are a variety of styles so you can pick and choose everything you need from colours, fonts, styles, textures, looks to suit your unique brand image and voice. With your very own website to flesh out your brand, all you need next is a professional domain to give that final touch and you are ready to go.
Next, you need to get your business out there.
Mailchimp offers a set of nifty marketing tools to help you get your presence out there on the web once your website is published. You have a range of tools to play with including pop-up forms, surveys, marketing CRM and behavioral targeting.
Mailchimp's marketing CRM tools can turn audience data into valuable insights so you know how to plan your next campaign and get results where it has the most impact. AI is the technology you need to put all the numbers into data that makes sense and which you can use as useful information about your potential customers. When you see and understand tendencies and patterns, you can shape your campaigns that will speak directly to your customers, therefore ensuring better results, instead of trying to get a shot in the dark with random ideas.
Small businesses often feel overwhelmed by all the tools they think they need to get and spend to get started on modern marketing. Mailchimp helps make it all manageable by having the marketing essentials like audience data, marketing channels and insights all on a single platform. Now we look at four key features Mailchimp offers for small businesses to get their businesses thriving and enjoy the marketing process.
The Right Outreach

Create Quality Content

Marketing Automation

Insights for Further Action
1. The Right Outreach
Mailchimp knows the customer is at the very centre of all marketing. By putting your audience at the heart of your marketing, you can build better relationships and with the right tools, you can understand your customers better and build your campaigns around them from the very beginning.
Signup Forms is one way to grow your audience. This is where you collect the data you need to send customers specific, personalised and relevant content that speaks to them and gets them interested in you. With an Audience Dashboard, you have the tools you need to understand your contact data and take the next best action. Mailchimp's Segmentation tools make it easy to send campaigns that are relevant to your customers.
2. Create Quality Content
Consistency in look helps to give your brand a professional feel. Use Mailchimp's Creative Assistant to combine the artistic with the technological to build beautiful, high-quality designs quickly.
What is useful is how you can manage all your assets in one single place. You can store your photos, documents and files in one location which you can access when you need to connect your store and social media accounts. No more messing about with a dozen apps and programs and losing photos and forgetting where documents are stored. With everything in one location, it means you can ensure a cohesive brand experience visually. Anything that you have in your content studio, you can pull out and use in any campaign. This also means that you can share your content studio with the rest of your team who can work on their part easily and have access to what they need. You save time and trouble searching for images and files, and everyone is on the same page.

3. Marketing Automation
AI helps you build more customised purchase paths. The customer's buying journey is one you need to know well to convert potentials into loyal customers. Automation means you can send the right message to the right person at the right moment. And it all gives the added human, personalised touch. Without you having to labour through tedious manual tracking.
Relevance is key to making your customer sit up and notice you. Mailchimp allows you to deliver relevant messages that are personalised to who each customer is and how they interact with your business. With the data collected, you can see when your customers are most open to engage with you and send at the appropriate time. And it is all automated. You do not need to remember to do it. Just schedule it.
Learn More about MailChimp Automation >
4. Insights for Further Action
If you had to do everything with pen and paper it would be impossible to track all the information about your customers. That is where AI's insights come in. All the zillion bits of information that are collected become vital information so you know what is working and what needs tweaking.
You get personalised guidance with smart recommendations that are backed by data. It is a guide so you know what to say and how to optimise your approach. Also, there is no guesswork in marketing. You can test subject lines, content, send times to see which gives you the best results. It is efficient and effective. You can access reports so you can see clearly what is working. This is where you can track performance and monitor trends. Data is not just a series of intimidating numbers and statistics. It is pure gold knowledge that can guide your business on the right track.
You no longer need to go bananas at the thought of how stressful it is to get your business out there into cyberspace. Mailchimp is an effective and powerful platform to get started on. It also offers support in terms of tutorials and marketing tips.
Let's help you engage better with Mailchimp
At Vermilion Pinstripes, we have been using Mailchimp with several clients to help boost their business.
Christmas is coming and Mailchimp is one exciting present for any business starting out or a marketer who wants to have their work aligned and done effectively from one single platform.
Contact us if you are keen to learn more about how Mailchimp and Vermilion Pinstripes can help you take your business to another cyber level.
BONUS:

Download Free Holiday Photos

worth $1,500 to help you with your holiday marketing campaigns. Yes, all FREE. No credit card needed.