The use of text, images, voice and videos make up Vermilion Pinstripes' Visual Communications offering. The use of videos are not new. They have existed for many many years. The big change in video is how important video has become on every platform and channel, especially your social media.
Why social? Research has shown that most people who watch videos watch it on their social channels.
Last Wednesday, 20 May 2020, I invited Stuart Lyall and our client, Lee from My Blue Tea as speakers in one of our webinars to share "Everything you need to know about creating great brand and product videos and using these videos to find new customers and sell to them".
Don't fall behind
We all know that images and videos are critical elements of content marketing and visual communications as the human brain can process visuals up to 60,000 times faster than text. Tweets with images, for example, receive up to 5x times the engagement of those without. Articles with visuals receive 94 percent more views.

I shared further stats from a recent HubSpot research.
54% of people say they prefer videos to any other type of content, firstly because it is more entertaining.
Videos on a landing page have conversion rates by over 80%
When you send an email with the subject line "video" the open rates of those emails increase by 19%.
The survey goes on to say that 90% of customers' videos help them make buying decisions.
Facebook analytics cited that 93% of businesses reported getting a new customer on social media because of videos.
So if you are not creating videos, you'll be falling behind.
Juicy topics covered during this webinar
The speakers shared insights, their expertise, and the secrets of their trade.
Why videos?
How do we start a video project?
Pro tips on how to shoot a video
Popular software you can use to create videos
Pro tips on how to share your video
Pro tips on how to use videos to sell your products (watch the recording so you don't miss these juicy tips)

There are 13 types of videos
I shared the 13 common types of videos and their applications. Most of us would use a mix of them.
demo videos,
brand videos,
event videos,
expert interviews,
educational/how-to videos,
explainer videos,
animated videos,
case study or testimonial videos,
live videos e.g. Facebook Live,
virtual reality videos (great for tour companies),
augmented reality videos (e.g. you point to your living room and it tells you on your device how a sofa will look there),
personalised message videos which you can attach to your emails
And the latest is interactive videos where the audience can make a decision from the video and it brings them to another video or set of information, based on that decision.
Steps to create your video project
As a professional marketer, this is how we plan a video project.
Plan your video (consider your target audience, message, offer, call to action, style)
Script your video (storyboarding your video)
Understand and use your phone camera, professional camera, or drone
Set up your studio or location set (think about lighting, tripods for stability, mics etc)
Prepare your talent (friends, family, customers, actors)
Shoot for the edit
Organise your footage
Edit your video (software like Adobe Premiere Pro, iMovie, or simple editing software like Promo, Canva, Ripl, Tik Tok, etc)
Choose your music (free music from Facebook, Canva, or subscription-based Audio Jungle)
Record your voice over
Work needed to sell
Yes, videos may be the craze now. Just like any other content, you have to work it to let it sell for you. It is getting more and more difficult to grab attention so videos, like any other content, are getting more creative and interactive.

Lee from My Blue Tea is very active in sharing her videos on social media, tagging appropriate groups and influencers to get their attention so they will reshare her videos. She also tags her products on her video posts on Facebook and Instagram so it is easy for customers to buy directly from those videos. Tagging is a free feature on Facebook and Instagram.

Some set up is required. Contact me if you need help with this.
Sell your products directly from your videos
This is the part where most people sit up and listen really carefully :)
How do you present your brand, offer, and product or service in the video that triggers an action? That's the selling bit. You want to make buying as easy as possible. I call it Selling Without Selling.
I showed our webinar audience how you can create cards on videos and tag the products that you want to sell on the video which is on your website, Facebook, or Instagram. Just watch one of the promotional videos on My Blue Tea's TV Channel so you know what I mean. You can place product cards to appear, let's say, 4 seconds into the video. The person watching the video can click on the card at any time, purchase and pay for the product from the website.
Click on the image below so you can see how it works.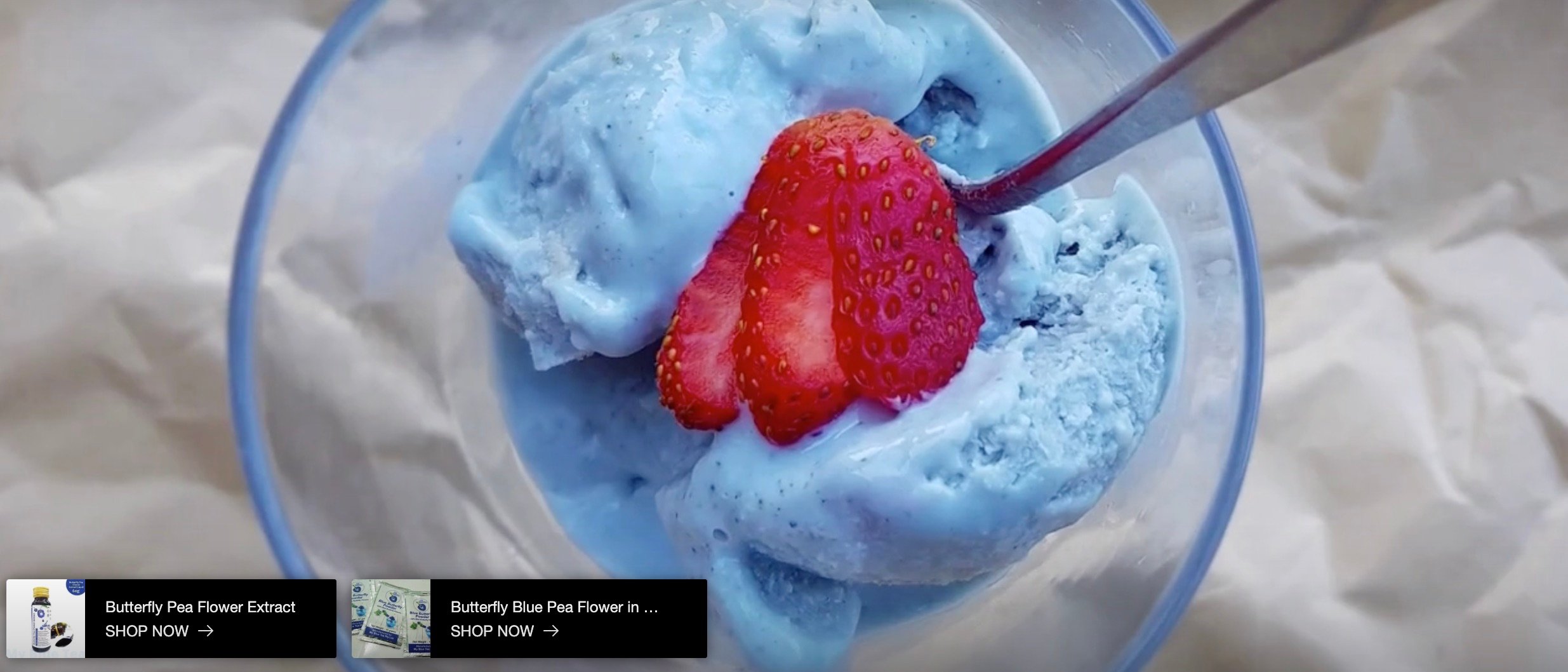 To watch the entire recording of this webinar: How to Use Videos to find New Customers and Sell to them, click the video below.
Here's our offer to small businesses
It is worth investing in a professional video. We are offering videography services for only $495 for a 45-seconds video that you can use on your website, social channels or shop.


---
About the Author
Veronica Lind is the Business and Marketing Strategist of Vermilion Pinstripes - Sales Marketing and Communications. She is the creator of the Modern Marketing Framework that enables local, regional and global executives to sell without selling, build business confidence, and thrive.