Every marketer is expected to be highly creative and to create highly creative content. For several years, there was a huge hype on Content Marketing which Content Marketing Institute defines as 'a strategic marketing approach focused on creating and distributing valuable, relevant and consistent content to attract and retain a clearly-defined audience and, ultimately, to drive profitable customer action.'
In modern marketing, what can go wrong with Content Marketing?
There are 27 million pieces of content shared daily1with 62% of marketers thinking that their content marketing efforts are ineffective because 74% of online consumers get frustrated. This is simply because the content is either not relevant or provides little or no value to the customer.2
Worse, if you deliver content through disjointed marketing efforts, the effects become adverse. Bad content and disjointed digital marketing can result in loss of customer interest, loss of customer loyalty, confusion and mistrust, and a loss of market share.3
Shift from 'Easy to sell" to "Easy to buy" business model
Due to increased competitive pressures resulting from the rapid advances in technology, the continued growth of the service sector, and the escalation of global competition, businesses are beginning to move away from the strategic, bottom-line, cost-cutting focus of the 1990s to a renewed top-line focus on revenue growth via organisational innovation and creativity. As a result, businesses are embracing the challenge of integrating creativity and innovation into their organisations, clamouring for creative breakthrough ideas, products, and services that provide significant competitive advantages.4
In an IBM CEO study, it was identified that "creativity is the single most important leadership competency for enterprises seeking a path through this complexity".5Creativity, after all, is not valued as an end in itself but as a critical means to that end.
In this age of accelerating complexity, Marketing can make the process of buying, using and getting value from your products as simple and productive as possible.
Moving from a business model of "easy to sell" to "easy to buy" shifts the marketing paradigm and the creative response that's required. It also begs for the kind of creative leadership that marketers are uniquely equipped to provide.
The big shift towards an easy to buy business model requires every company to be highly customer centric. This require each digital business to move towards creating a broader digital ecosystem tapping into an array of other digital businesses and customers to improve operations, business processes and shifting towards a customer centric model - processes, personalised product and services and personalised marketing models.
The Internet of ME6 is driving B2B marketers to leverage digital channels to create highly personalised experiences that engage and exhilarate customers and inspire advocates.
Delivering visible business value
Beyond content, marketer need to focus on applied creative marketing. Applied creative marketing requires a holistic creative approach to solve business problems and/or ignite business growth.
Be motivated to contribute whilst devising new pathways in uncertain environments, taking a company's unique differentiation and transform it into a visible business value.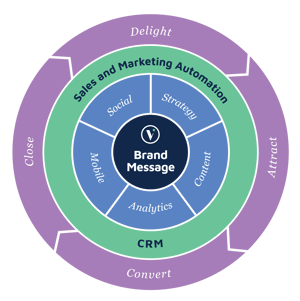 The easiest way to approach applied creative marketing is to think of the role of creativity as a vehicle for building relationships between your brand and your prospects while accentuating your brand's differences.Yes, take a company's unique differentiation and transform it into a visible business value.
At the tactical level where you are driving business pipeline and sales—use a brand-led and personalisation marketing strategy along each customer's journey to help them buy easier from a brand.
Diagram 1 -
Vermilion Pinstripes Modern Marketing Framework
Leverage an agile, responsive framework that includes an integrated mix of content, analytics, mobile and social engagement techniques powered by marketing automation and supported by CRM. We called it our Modern Marketing Framework.
(See diagram 1)
Through this strategy, marketers and communicators can guide companies and stakeholders in developing their unique brand value proposition, earning the respect of their stakeholders and peers.
What is key in this Modern Marketing Framework?
It requires a strategy with high dependency on marketing technologies, research and analytics, the power of emotion and strong alignment to business goals, metrics and customer facing processes. It is a combination of applied creative marketing and personalisation. It is Vermilion Pinstripes Modern Marketing Framework.
What does this all mean? It means…
providing relevant content with consistent brand messages to customers BEFORE they think of contacting your sales teams.

Marketers have to motivate customers to move to the next stage of their lifecycle faster than they would on their own

Needing creative marketing elements i.e. messaging and content + visual expression and campaign assets + engagement techniques that result in personalised differentiated experiences to WOW the customers. (see diagram 2 – Personalisation)

Requiring deep understanding of your customers and their digital behaviour - where they engage, their communication preferences, channels, frequency and what message, content and marketing activity appeal to each persona at each stage of their life-cycle

Having easy-to-assess metrics and how you use collected marketing data (analytics). Metrics help you assess whether your marketing dollars are allocated correctly. If your efforts aren't sufficiently supporting your goals at each stage, you should modify your budget or your tactics.
Through all these, it is important to remember that knowledge is power in customer relationships. Have an automated engagement marketing platform that enables a 360-degree view of your customers across channels, and by aligning your data, technology, processes and people and keeping your customers in the loop on all that you are doing, you can build trust and create strong alignment to help the company achieve their goals.
Transforming customer experiences
In marketing, strong emotional connections between the brand and its customers will deliver business value.
For experienced marketing professionals, the real need is not Content Marketing but in Applied Creative Marketing which focuses on WHAT your customers want and HOW best to deliver the experience during each stage of their lifecycle.
By making the buying experience easier for customers, you will need to take the brand's unique differentiation and transform it into an entity of visible business value to it's target customer. Just how to do that? We recommend using Applied Creative Marketing with a personalised approach involving strategy, content, analytics, mobile readiness and social referral, powered by marketing automation and supported by CRM.
References
Veronica facilitates workshops for experienced B2B marketers and communicators helping them enable business confidence through purpose-driven marketing and communications techniques.
Vermilion Pinstripes is a sales marketing and communications agency based in Port Macquarie, Australia and in Singapore.
Vermilion Pinstripes is a partner of Hubspot, Active Campaign and Kounta point of sales software. It's amazing how we have a team who use maths, science, creativity and psychology in this modern marketing era to help small businesses and B2B organisations connect with MORE of their most profitable customers using a simple, clear and structured purpose-driven sales, marketing and communications plan to gain brand clarity so that they can grow their business and achieve returns on investment (RoI).
We are proud to count growing local, regional and global businesses gain business confidence. Let's build yours!