For businesses on the path of growth, there are multiple reasons why a communications team is beneficial for your business, be it short-term, such as an upcoming event, or for longer term business goals. The next question is, should you consider in-house professionals or look to retain a public relations PR agency?
With an in-house professional, it will seem "cheaper" as all the individual's time will be spent on your business activities while with PR agencies, the different team members there could only be working on your activities for part of the time.

However, it is attractive to engage agencies as there will be professionals with multiple skill sets and experiences from different industries, and they would bring valuable perspectives and critical thinking into your environment.

I spoke with my former client and now good friend, Ee-Guan Lim, who had managed in-house staff as well as worked with PR agencies in his previous tenures in government, information technology and healthcare sectors. His view is that the in-house vs agency equation is essentially about resources.
"Does your in-house team have the ability, and equally important, the bandwidth to achieve your business goals and objectives? Remember - whatever you ask your team to do, it means they have much less time to achieve other things, while good agencies can offer new insights, and bring their resources to bear on tough new problems, especially those that need fresh perspectives," he added.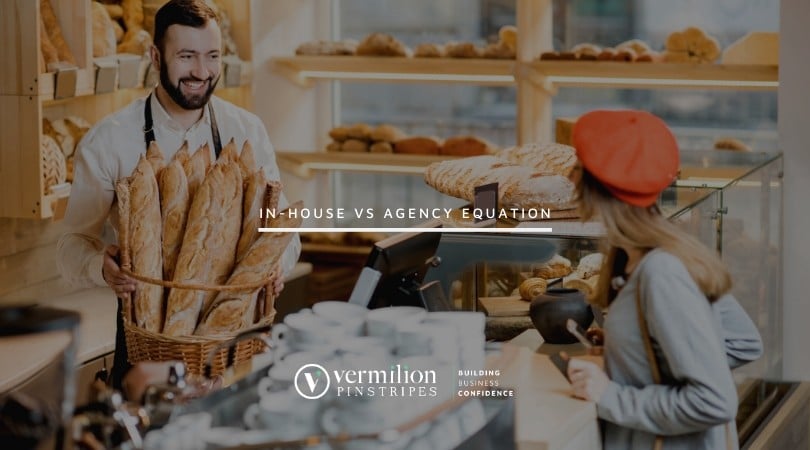 Now, before you make your decision on whether to hire in-house or to retain an agency, let's consider three key areas:
1. Budget
Always consider your budget in totality, not just a one-time or one-month fee. What this means is that you should look into how much you have been spending or want to spend for the entire year or even the next three to five years on communications. For instance, if you typically spend a modest S$100,000 (about US$75,000) a year on PR, then put that figure down in your spreadsheet or plan, and then examine the next two points below.
2. Skills and capabilities
Assess WHAT you want to get out of your PR efforts. From there, consider what skills you require most for your needs. For instance, if you're looking to reach out to top tier media across the Asia Pacific region in the next 18 months, you'll need someone or a team with strengths in media relations (from storyline development to media pitching to media interviews and follow-ups) to complement your social media team's capabilities.

Summing up these two points, Ee-Guan's advice to business leaders still weighing their options is this: "If you are building out your team's capabilities, you'll want to see what can be reliably outsourced so as to free up their bandwidth for the new roles. Some things are always worth outsourcing and your choice of agency (or more commensurate headcount) here will be radically different. Don't skimp on resourcing - it is critical. Until the robots take over, we must nurture and rely on precious, capable humans."

This brings us to the next factor of consideration:
3. Tenure
If you have a predetermined time frame for PR programmes and activities, then it is better to look at retaining an agency. On the other hand, if you have long term plans for PR or the overall communications function, then you may want to consider hiring an in-house professional.

Another long-time client turned friend, Sui-Ching Low, who has held positions in multinational corporations and large local businesses said:
"In my in-house roles as marketing or communications lead, I have worked with PR agencies. They are an integral partner to my in-house teams for one reason – it is difficult to find a single expert who can execute on everything you need for a full-fledged PR campaign!"

"And if there is such an individual for in-house hire, the total cost of hire – from onboarding to career planning and progression – often turns out to be more costly than appointing a PR agency."
After having considered all the above factors, and you have arrived at your decision, there are a couple of bonus tips for you to turn PR into your best lead generation engine.
Bonus tip #1: Motivate, Collaborate and Engage
Whether you choose to hire an agency or an in-house PR professional, always be prepared to share your business goals, mission and aspirations with the individuals or teams working with you.

Motivate them to do their best for your business, collaborate as equals and continually engage with them from planning to completion. You will win together in the marketplace instead of treating an agency team or your new in-house PR staff as "arms and legs" for mere execution of activities.

Bonus tip #2: Integrated Sales, Marketing and PR
Engage with your PR team members (whether individuals or agencies) as One with your business, sales, operations and marketing stakeholders. PR is a great function to help you strengthen your business reputation, manage perception and build a loyal community of stakeholders – including customers, partners and employees. So, it makes sense to have PR work as One with all the business functions to steer everyone forward on the same journey of growth together.
"Appointing an external agency is not only the first step to a collaborative relationship. It will take time for the external agency to grasp the company's brand story and essence due to accessibility to the larger functional and product teams on a daily basis. It's important for business or commercial leaders to cooperate with the agency so that there is a strong alignment of communications strategy with the corporate business strategies. In this way, the agency along with your in-house team of B2B marketers and communicators can create greater synergy that enables positive and successful outcomes," said Sui-Ching.
Case Study

With our client, Mid North Coast Diagnostic Imaging (MNCDI) who chose to work with us as their agency, we have been fortunate to experience the motivation, collaboration and engagement with the different business functions over the years.

Working closely with the client team, we undertook a 360° combined PR and marketing approach. This included social media campaigns across multiple platforms, direct mailers and media outreach to supplement their B2B and B2C engagement programmes and activities. In the run up to their new imaging centre opening at Highfields, Vermilion Pinstripes planned a series of PR announcements ahead of the opening.

This integrated approach helped raise awareness for MNCDI, promote its position as a brand leader in enabling better health outcomes, and secured appointments for its services ahead of the centre's opening.
Do you need further guidance on which PR approach is best suited for you? Just drop us a note or request for a free 30-minute consultation.
We're always happy to share our thoughts and experiences. Let's discuss how we can collaborate to help you thrive with business confidence!
About Vermilion Pinstripes
Vermilion Pinstripes is a modern sales marketing and communications agency driven by a singular mission:
To help businesses thrive with confidence.
We harness the power of our collective expertise in business, communications, marketing and technology to help brands achieve their goals. This is through our Modern Marketing framework which guides teams to orchestrate the customer's journey as one voice, one brand.

We are operating in The Experience Economy today. Modern Marketing empowers experienced B2B business, marketing and communications professionals on their journeys of growth for their brands.

Sales office: AUSTRALIA - Sydney, Port Macquarie, Melbourne and SINGAPORE