Positive publicity will help businesses generate new leads for better business. The start of a PR campaign involves issuing a press release to the media.
What is a Press Release?
According to Wikipedia, a "press release, news release, media release, press statement or video release is a written or recorded communication directed at members of the news media for the purpose of announcing something ostensibly newsworthy.
Typically, they are…e-mailed to assignment editors and journalists at newspapers, magazines, radio stations, online media, television stations or television networks."
(source: https://en.wikipedia.org/wiki/Press_release)
If you are a new start-up, micro business or budding entrepreneur with a new product or service, partnership announcement or major company milestone that you want to send to the media, this workbook is for you.
DOWNLOAD THIS WORKBOOK to learn how to write a factual yet compelling press release that will help you grab the media's attention. Here you will find:
What should be in your press release
Structure of a press release
5 steps on how to write a press release including a set of 10 questions to help you articulate the important points of Who, What, Why, Where, When and How
If you want to learn how to use this workbook and write a press release, register for our online video training - https://how-to-write-a-press-release-video.eventbrite.com.au
For more insights and expert tips on modern communications tactics and activities, please check out our blog at VermilionPinstripes.com.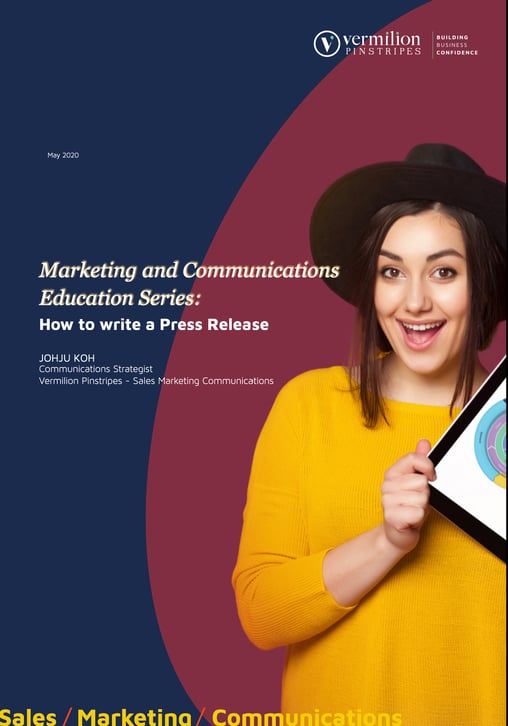 We hope you find this resource useful. Please feel free to reach out to me at johju@vermilionpinstripes.com to let our team know if it has helped or just to chat about what other resources you would welcome.
If this free resource has helped you, please pay it forward with another good deed for the community. Let's make the world a better place together!
Download this workbook: How to Write a Press Release by filling in the form.
What's next?
Book your free consultation with Vermilion Pinstripes now!
Want more?

About Vermilion Pinstripes

Vermilion Pinstripes is a modern sales marketing and communications agency driven by a singular mission:

To help businesses thrive with confidence.

We harness the power of our collective expertise in business, communications, marketing and technology to help brands achieve their goals. This is through our Modern Marketing framework which guides teams to orchestrate the customer's journey as one voice, one brand.

We are operating in The Experience Economy today. Modern Marketing empowers experienced B2B business, marketing and communications professionals on their journeys of growth for their brands.

Sales office: AUSTRALIA - Sydney, Port Macquarie, Melbourne and SINGAPORE