Community engagement is in the Vermilion Pinstripes DNA. We believe that in good times or not-so-good times, our community needs to come together to connect, inspire and empower each other for the road ahead, something we have been striving to provide since we launched our Knowledge Sharing series in early 2020.
In response to this new, strange "Never Normal" world, our latest offering is a series of knowledge sharing sessions that we have titled, simply, "Let's Talk". The purpose of the sessions is to examine the various ways in which businesses can grow in the Never Normal world. The inaugural session, "Let's Talk about ideas for businesses in the Never Normal world", was held in September 2021 and saw participants from Asia Pacific and Europe discuss a variety of industries and bring multiple ideas to the table on how they changed their approach towards business.
The objective of the session was to shed further light on the specific ways in which these developments have impacted businesses around the world and how each managed to adjust and adapt their business strategies to counter them. We touched upon ideas such as diversification, collaborations, engagement, digitalisation, creating experiences and choosing conveniences.
Fill in the form to download our eBook "Ideas for Businesses the Never Normal World" that summarises these discussions and learn from each other so we can Sell More without Selling.
Share and inspire others too.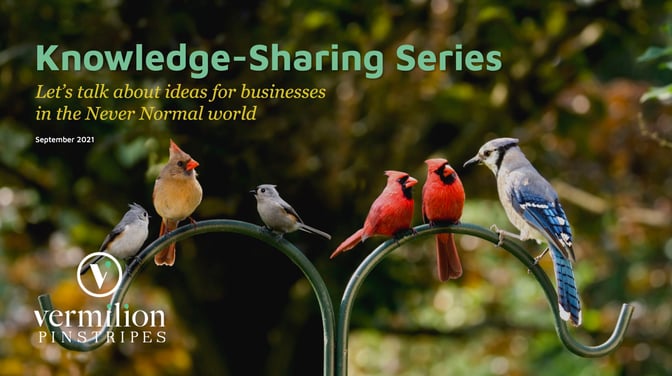 Also refer to our FREE resources and tools which we hope you find useful so you can do better modern marketing. Please feel free to reach out to me at veronica@vermilionpinstripes.com to let our team know if it has helped or just to chat about what other resources you would welcome.
What's next?
If you would like Better Marketing, do book a free consultation with Vermilion Pinstripes now!
Want more?

Chat soon!
Business and Marketing Strategist, Vermilion Pinstripes
About Vermilion Pinstripes

Vermilion Pinstripes is a modern sales marketing and communications agency driven by a singular mission:

To help businesses thrive with confidence.

We harness the power of our collective expertise in business, communications, marketing and technology to help brands achieve their goals. This is through our Modern Marketing framework which guides teams to orchestrate the customer's journey as one voice, one brand.

We are operating in The Experience Economy today. Modern Marketing empowers experienced B2B business, marketing and communications professionals on their journeys of growth for their brands.

Sales office: AUSTRALIA - Sydney, Port Macquarie, Melbourne and SINGAPORE