It's easy to slip into feelings of futility and despair in the face of this unprecedented global pandemic that's caused business downturns the
world over.
But at Vermilion Pinstripes we are always looking for the upsides to turn any negative situation into a positive – in our mission to make businesses happy.
In doing so we embrace the meaning of the Chinese word for Crisis – 危机 (wēijī) - where Wei means danger and Ji means opportunity.
So we present to you, Reasons to be cheerful: crisis-proof strategies that we practise to stay open, ready and available, now and any time. The COVID-19 pandemic is as good a time as any to start applying these practices if you haven't already, and it will serve you in normal situations and many others.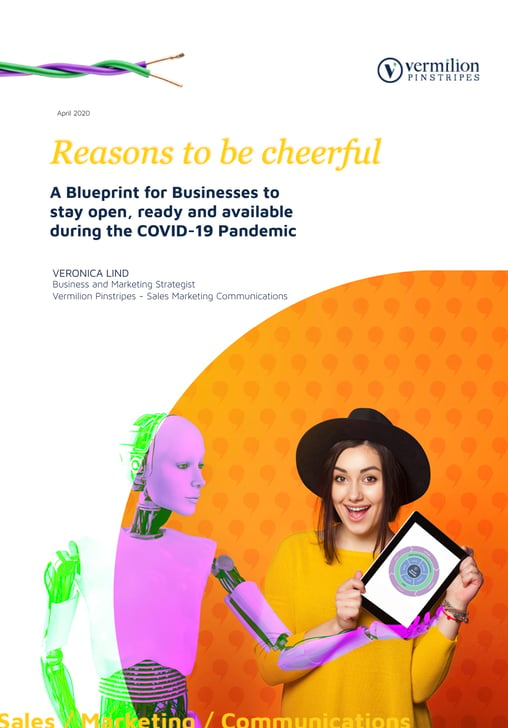 We hope you find this resource useful in demonstrating leadership and providing guidance to your customers. Please feel free to reach out to me at veronica@vermilionpinstripes.com to let our team know if it has helped or just to chat about what other resources you would welcome.
If this free resource has helped you, please pay it forward with another good deed for the community. Let's make the world a better place together!
Download Reasons to be cheerful: A Blueprint for Businesses to stay open, ready and available during the COVID-19 Pandemic by filling in the form.
What's next?
Book your free consultation with Vermilion Pinstripes now!
Want more?

Chat soon!
Business and Marketing Strategist, Vermilion Pinstripes
About Vermilion Pinstripes

Vermilion Pinstripes is a modern sales marketing and communications agency driven by a singular mission:

To help businesses thrive with confidence.

We harness the power of our collective expertise in business, communications, marketing and technology to help brands achieve their goals. This is through our Modern Marketing framework which guides teams to orchestrate the customer's journey as one voice, one brand.

We are operating in The Experience Economy today. Modern Marketing empowers experienced B2B business, marketing and communications professionals on their journeys of growth for their brands.

Sales office: AUSTRALIA - Sydney, Port Macquarie, Melbourne and SINGAPORE